When it comes to selecting the best chemistry textbooks for college, there are many factors to consider. The textbook should be comprehensive, covering all of the topics that will be covered in the course.
It should also be up-to-date, with the most recent information and research. The textbook should also be readable and engaging, making it easy to understand chemistry concepts.
Below, we share our research-backed picks for the best general chemistry textbooks for college students.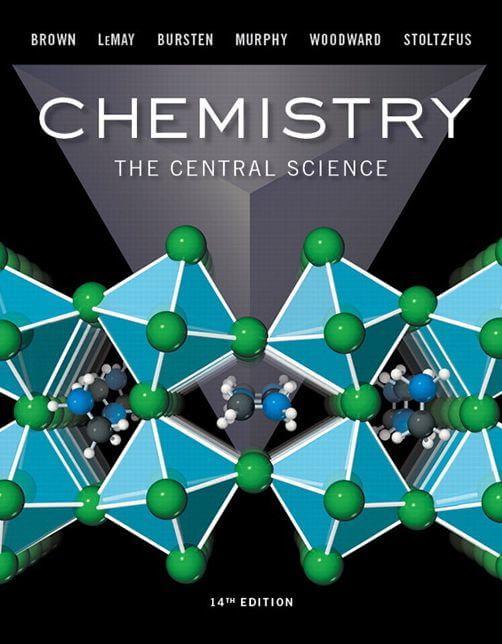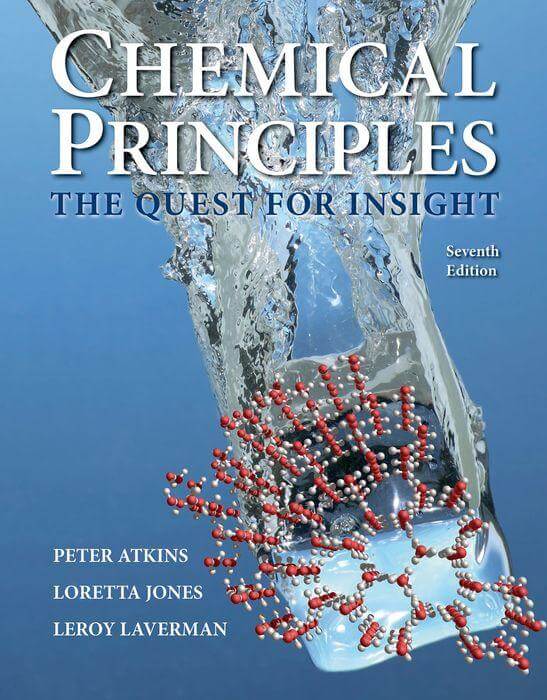 Chemical Principles by Atkins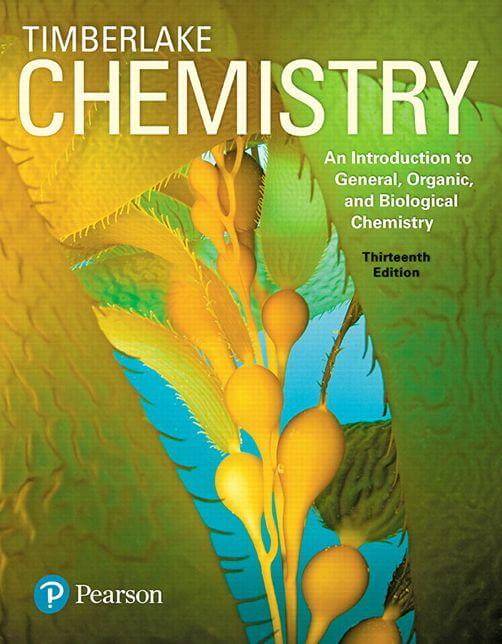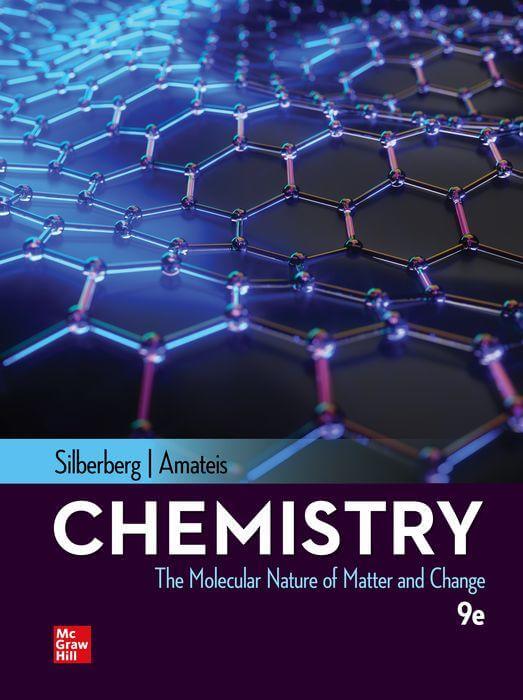 1. Chemistry: The Central Science (Best Overall)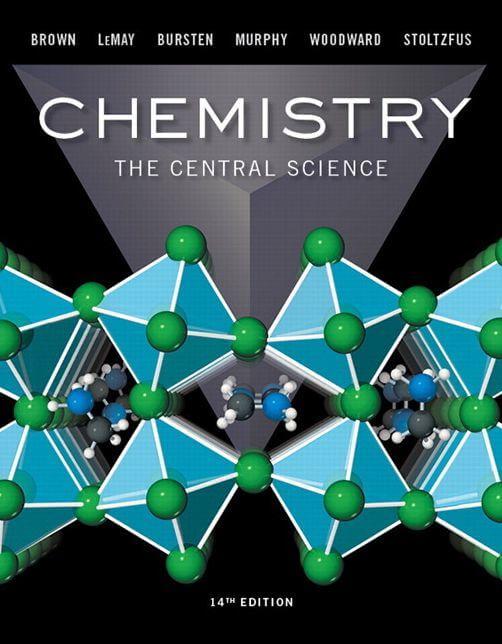 Authors: Theodore Brown, H. LeMay, Bruce Bursten, Catherine Murphy, Patrick Woodward, Matthew Stoltzfus
Goodreads rating: 3.9/5
If you're taking general chemistry, then you need a copy of Chemistry: The Central Science. This textbook has been proven to help increase student success by building conceptual understanding and engagement.
This textbook has been updated with new content and interactive tools to help you engage with the material and succeed in your course.
The author team draws on years of experience teaching chemistry to create an accurate, data-driven text that's rich with real-world examples.
The book also comes with Mastering Chemistry so that instructors can identify where students struggle and strive to perfect the clarity and effectiveness of the text, art, and exercises.
Mastering chemistry is an online homework and tutorial system that helps you get the most out of the text. And with Learning Catalytics, instructors can even expand on key concepts during lectures.
So if you're looking for an engaging and thorough chemistry textbook, pick up a copy of this one.
What we like
This book is a timeless resource to have even after college
The book is clear and concise in its explanations
The book covers a variety of general chemistry topics adequately
Even if you're taking an advanced chemistry course, you will still find the book this book valuable
What we didn't like
The copious amount of text and information in this book can be overwhelming
We felt the textbook should have included more steps in solving problems, which would benefit a student building a firmer foundation in general chemistry
Yes, the book is quite bulky too!
2. Introductory Chemistry Essentials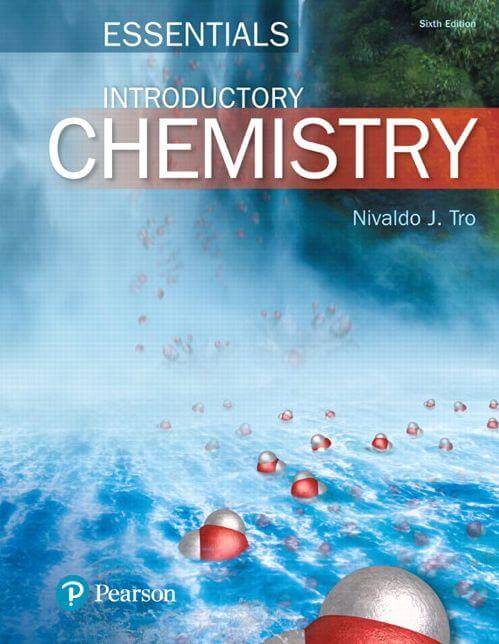 Author: Nivaldo J. Tro
Goodreads rating: 3.7/5
This book is written in an easy-to-understand style with plenty of illustrations and examples. It covers all the essential topics for your coursework including chemical reactions, atomic structure, periodic table basics, and more!
This book contains the fundamentals of chemistry and its applications to everyday life. It also includes many examples, which make it engaging to read. The examples are sure to keep you interested in chemistry while you learn the essential concepts.
The newest edition has been updated with more new material that can help you better understand how chemistry manifests in your daily life. And with the Mastering chemistry program, the book allows you to personalize your learning and develop problem-solving skills.
This introductory chemistry textbook will help you get started on the right foot.
What we like
The textbook is easy to understand with pictures, diagrams, and charts that help make chemistry concepts easy to learn.
It features lots of explanations and exercise problems.
It is written in a way that is easy to follow with each subject being divided into its own chapter.
The textbook provides a glossary for students to look up the definitions of words.
Students who have read the textbook say that it is the best introductory to general chemistry textbook- especially with its skill builder boxes that help reinforce your concept mastery.
3. Chemistry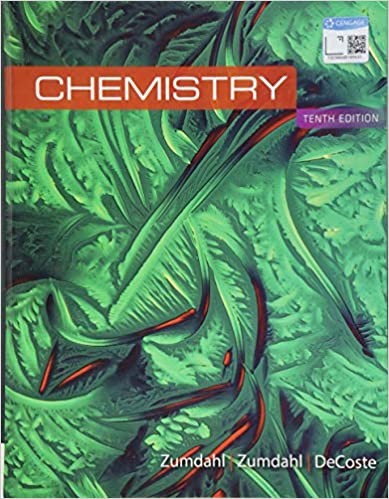 Authors: Steven S. Zumdahl, Susan A. Zumdahl, Donald J. DeCoste
Goodreads rating: 3.8/5
Chemistry is a topic that many people find difficult to grasp. chemistry as a science can be confusing and complex, but chemistry by Zumdahl makes it easier for students to understand chemistry on their own.
Chemistry by Zumdahl is one of the most popular and well-respected chemistry textbooks on the market. It's perfect for college students who want a comprehensive and in-depth introduction to general chemistry.
The textbook offers all the elements needed for a general chemistry course with an emphasis on models, real-world applications, and visual learning.
Unlike other chemistry textbooks, Chemistry by Zumdahl is written in a readable and engaging style that makes it easier for students to understand the material. It's sure to provide you with a solid foundation in general chemistry.
What we like
This textbook is perfect for the undergraduate level. It offers a great transition from AP Chemistry into a more dense college-level general chemistry course.
The practice questions in the book are in plenty and come in handy to prep you for chemistry exams.
The textbook is easy to read and has great diagrams and examples that help you visualize and understand chemistry concepts.
We also found it useful to use when preparing for the MCAT (Read also- 5 Best MCAT Prep Books, According to Med Students)
What we don't like
If you don't have enough previous chemistry knowledge, you might find the book dense.
The layout is wanting and characters are introduced, resolved, and dropped on every other page.
We feel like sometimes the textbook tries a little too hard to be relatable and funny- the authors should have just stuck to a more formal approach if they can't be authentically relatable.
4. Chemistry: A Molecular Approach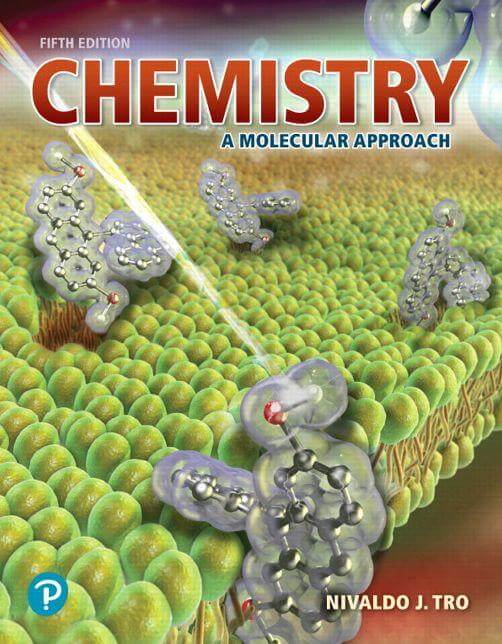 Author: Nivaldo Tro
Goodreads rating: 3.6/5
This book takes an innovative approach that emphasizes the connection between chemistry and solving real-world problems. The book has been updated with new content, including new interactive pedagogy exercises and videos.
In particular, there are now five modules on different topics that you can use as stand-alone courses or together as a comprehensive curriculum for college chemistry majors.
This text also includes over 100 visualizations of chemical concepts such as electron configuration and Lewis dot structures to help you see how these important ideas work in practice without having to memorize formulas or equations!
So, if chemistry is your thing, then this book will make for a great addition to your chemistry library.
What we like
We found the practice problems in the book to be a great representative of the kinds of problems you will likely face in such a course.
If you are a visual learner, then the visual demonstrations including graphs and images will enhance your understanding of chemistry.
The textbook can also prep you well for an inorganic chemistry course at the college level.
What we don't like
It did feel like some explanations were slightly elementary and that they needed more detail.
Tro does not include formulae for most of the calculations.
5. Chemistry & Chemical Reactivity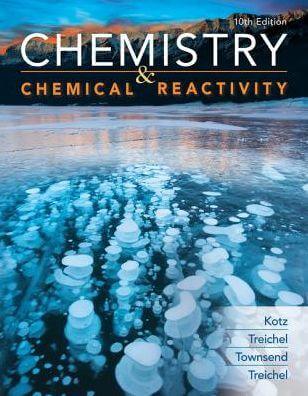 Authors: John C. Kotz, Paul M. Treichel, John Townsend, David Treichel
Goodreads rating: 3.5/5
This textbook is considered a "gold standard" for general chemistry textbooks and has been in print for over 25 years.
One of the main reasons this textbook is so popular is because it emphasizes the visual nature of chemistry.
The close interrelationship of the macroscopic, symbolic, and particulate levels of chemistry are illustrated using powerful multimedia tools. This makes it easier for you to understand the concepts being taught.
The textbook is also full of clear explanations and problem-solving strategies. Plus, there are dynamic study tools available online that can help you succeed in chemistry.
If you are looking for an excellent general chemistry textbook, we highly recommend this textbook.
What we like
The textbook is easy to understand and covers all the topics required for a university-level chemistry course.
The textbook has good practice problems and clear explanations of concepts.
6. General Chemistry: Principles and Modern Applications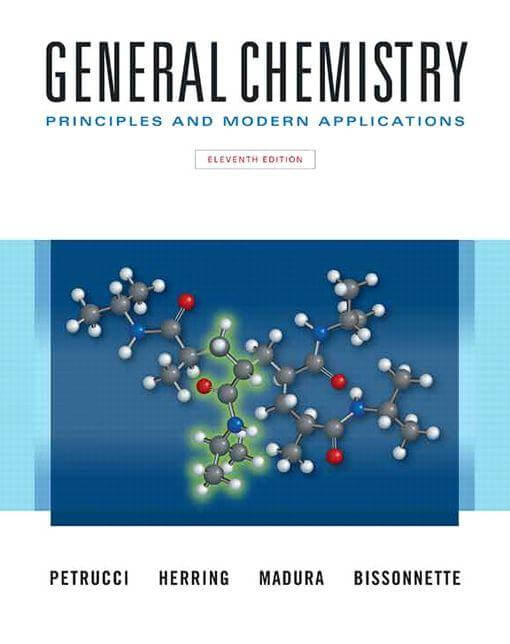 Authors: Ralph Petrucci, F. Herring, Jeffry Madura, Carey Bissonnette
Goodreads rating: 3.9/5
With this textbook, you not only find a well-written text, but also one that provides the most in-depth coverage of topics such as atoms and the atomic theory, chemical compounds and reactions, gases, thermochemistry, electrons in atoms, chemical bonding, liquids, solids, and intermolecular forces.
In addition to this impressive coverage of chemistry topics, the textbook also features helpful tools such as Feature Problems, follow-up Integrative and Practice Exercises to accompany every in-chapter Example, and Focus On application boxes.
And at some point this textbook was used at MIT- not sure if it still is.
So if you are looking for an all-inclusive chemistry textbook that is also well-written, then this textbook should be at the top of your list.
What we like
The hundreds of exercises will reinforce your understanding.
We loved that the explanations were simple and concise.
What we didn't like
We thought some sections, for example, on Gib's free energy, thermodynamics and chemical kinetics, could use more explanation of the theories behind them.
7. Chemical Principles: The Quest for Insight (Best for First Atom Approach Style)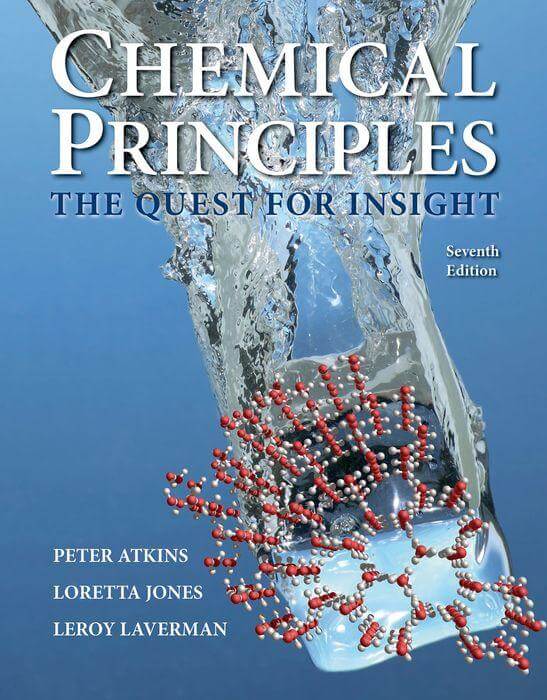 Authors: Peter Atkins, Loretta Jones, Leroy Laverman
Goodreads rating: 3.9/5
Chemistry is often seen as a difficult subject to master. However, there are some chemistry textbooks that offer a new perspective and break down chemistry in an accessible way for general chemistry students. This is one such textbook.
The book begins by providing a detailed picture of the atom, and then builds chemistry concepts from there. This approach allows students to see the connections between fundamental chemical ideas and their applications.
The new edition of this textbook incorporates features that extend its focus on modern techniques and applications while strengthening its problem-solving approach.
Additionally, the textbook offers an exceptional level of support to help students develop their mathematical and problem-solving skills.
Overall, Atkins is an excellent general chemistry textbook for college students. It is written in a clear and concise way, and it provides you with the tools you need to understand chemistry concepts and solve problems.
What we like
The Atkins textbook has a great focus on the "why" behind chemistry, as opposed to just providing students with facts to memorize.
You will appreciate the book's first atom approach especially if you are a mathematician.
We found the book to have an engaging writing style, which helps keep you interested in the material.
What we don't like
Although the latest editions are a little spruced up, you may find the layout and rearrangment of content a bit confusing.
8. Chemistry: An Introduction to General, Organic, and Biological Chemistry (Best Nursing Chemistry Textbook)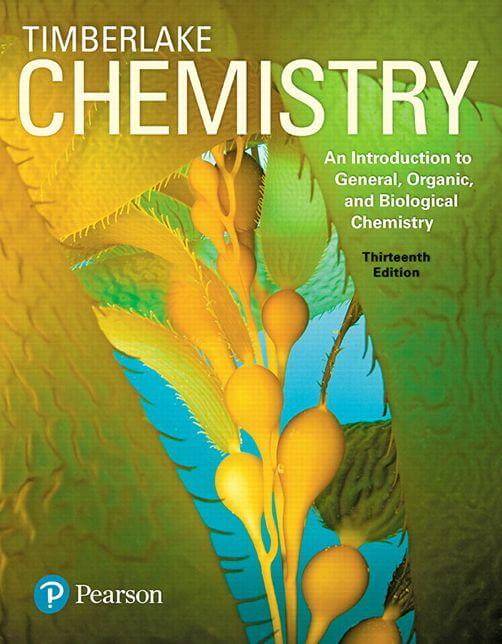 Author: Karen Timberlake
Goodreads rating: 3.7/5
If you're interested in learning about chemistry, health, and the environment, then this is the textbook for you. Written in a friendly and engaging style, this text reveals connections between chemistry and the real world.
With applications throughout the program that couple chemistry concepts with health and environmental career applications, this text helps readers understand why the content matters.
This textbook has been updated to include more information that is relevant to students. The clinical focus and educational research are both strengthened, as well as the learning design.
Additionally, new applications have been added to questions and problem sets in order to help you better understand the material.
What we like
We love that the book assumes no prior science background in its approach.
The book is great for nurses learning chemistry and provides real case studies to help with learning.
The textbook is easy to follow and makes complicated material easy to understand.
What we don't like
If you have a solid science foundation then you might find the explanations a little basic for your liking.
9. Chemistry: The Molecular Nature of Matter and Change (Best for College Beginner)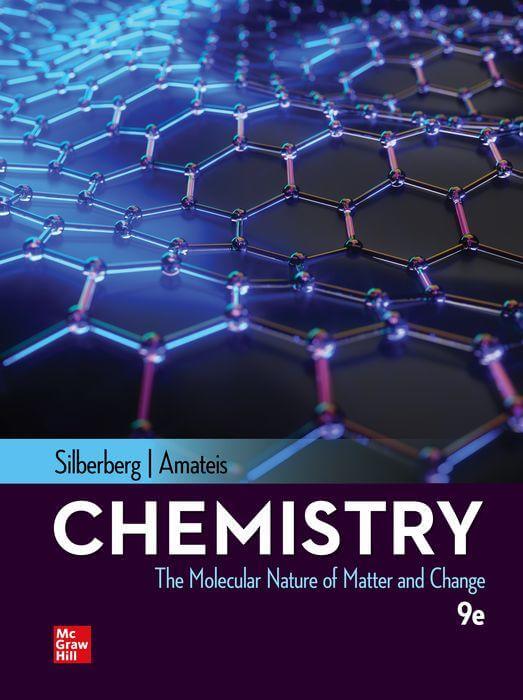 Authors: Martin Silberberg, Patricia Amateis
Goodreads rating: 3.8/5
If you're looking for an engaging and informative read, then Silberberg is a great option. Written by Martin Silberberg and Patricia Amateis, this text contains unparalleled macroscopic to microscopic molecular illustrations and extensive problem sets that will engage you in a variety of disciplines, such as medicine and engineering.
As a college student, this is one of the best general chemistry textbooks for you.
What we like
The textbook is beautiful with interesting illustrations and examples, making it easy to read and visually appealing.
We found the "Chemical Connections" parts towards the end of sections to be useful in expanding your knowledge. In them, he delves into a topic connected to the rest of the chapter.
What we don't like
It is not as comprehensive as a text like Zumdahl if you have a good grasp of Chemistry already.
Final Thoughts: Best General Chemistry Textbooks for College Students
Chemistry spans various disciplines and areas of study. Studying it can be challenging for you because it requires an understanding of the different topics in chemistry which are often not taught at undergraduate level courses.
But by studying general chemistry, you develop background knowledge on all aspects of chemistry such as physical chemistry, organic chemistry, analytical chemistry, inorganic chemistry, biochemistry, and more.
The best general chemistry textbooks for college students are ones that provide a comprehensive overview of all the different topics in chemistry.
All the textbooks we've listed provide a detailed overview of chemistry and are ideal for you if you are looking to improve your understanding of chemistry.
If you make a purchase, we may earn a commission at no extra cost to you.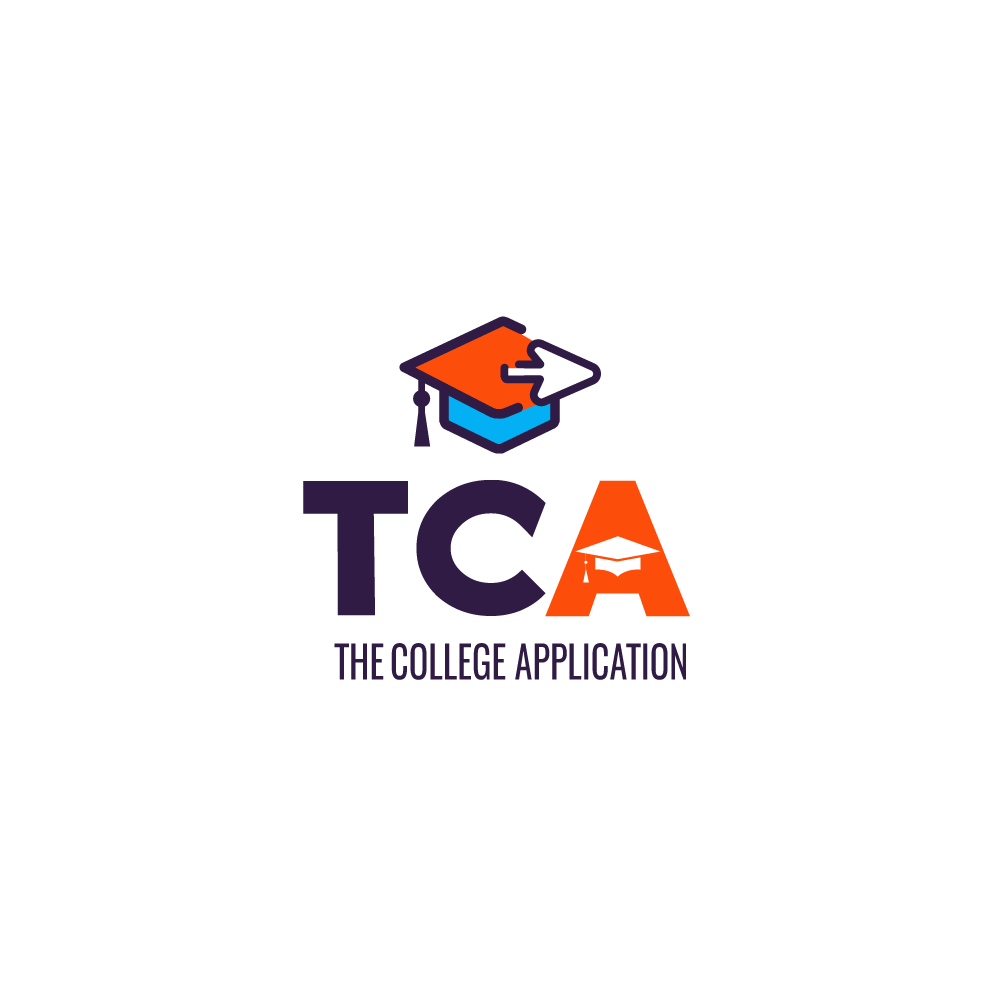 Ultimately, whichever you pick, learn and stick with it. Now go grab yourself a copy!
What is an additional best chemistry textbook for college students that I need to know about?
Linus Pauling's General Chemistry it is! This textbook is beautifully written and really breaks down complicated concepts in chemistry.
Now, depending on your prior knowledge, you might find it dense- but if you can keep up, you will be grateful to have read it.
Related Readings:
The 9 Best Physics Textbooks for College Today
Best Anatomy and Physiology Books, According to Clinicians & Med School Instructors
Is a Neuroscience Degree Worth it?- Exploring the Benefits!