Intro to the Best MCAT Prep Books
Once you've determined that you want to get into med school, the next step is picking out the best MCAT prep books to suit your needs. Many of the great MCAT prep courses will provide books as part of the package when you purchase access to the course.
It never hurts, though, to find a few additional books to continue your studies on your own. If you're willing to invest the time and effort into studying, you can never have too many good study guides. You just need to make sure they are good.
Here are five of the best: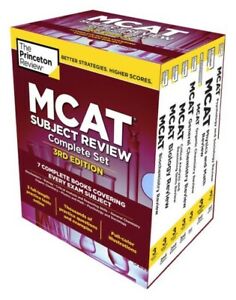 Whether or not you select the Princeton Review as the best prep course for your needs, you'll still want to take a look at the Princeton Review's study guides because they're awesome.
This set comes with seven books in total. They are:
MCAT Critical Analysis and Reasoning Skills Review
MCAT Physics and Math Review
MCAT Psychology and Sociology Review
MCAT Biochemistry Review
MCAT Organic Chemistry Review
MCAT Biology Review
MCAT General Chemistry Review
It really is the total package when it comes to MCAT prep. There's a book for every single section of the MCAT exam, including one on critical thinking and reasoning.
Purchasing the books also means you get access to three full-length practice exams that you can redeem online.
These three exams will help you determine whether or not you're ready to sit for the actual exam. The books also feature thousands of practice questions, and there's an end-of-chapter review at the end of each chapter.
The books also feature MCAT-style practice passages, chapter summaries for ease of reviewing and retaining information, full-color illustrations, tables, and diagrams to help you commit the material to memory, comprehensive glossaries for easy reference, and sections on test-taking skills and techniques for raising your score.
There are also additional resources online to which you'll have access after your purchase.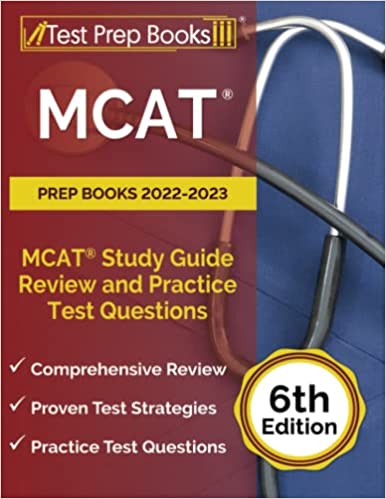 Test Prep Books has been offering high-quality, lower price options to students taking standardized tests for years.
This is the company's most up-to-date offering for students preparing to take the MCAT and is reflective of the types of questions you'll see on the MCAT exams.
The book is broken down into several sections including:
Overview
Test-Taking Skills/Tips
Introduction
The Three Subject-Area Sections
A Critical Analysis and Reasoning Section
Practice Questions, and Detailed Answers
The book is fairly comprehensive, but its biggest draws are the numerous questions and the detailed answer explanations provided for them at the end of every content section and the critical thinking section.
The answers are very thorough and will help provide you with a very detailed explanation of why you missed the questions that you missed and why you were right about the ones you answered correctly.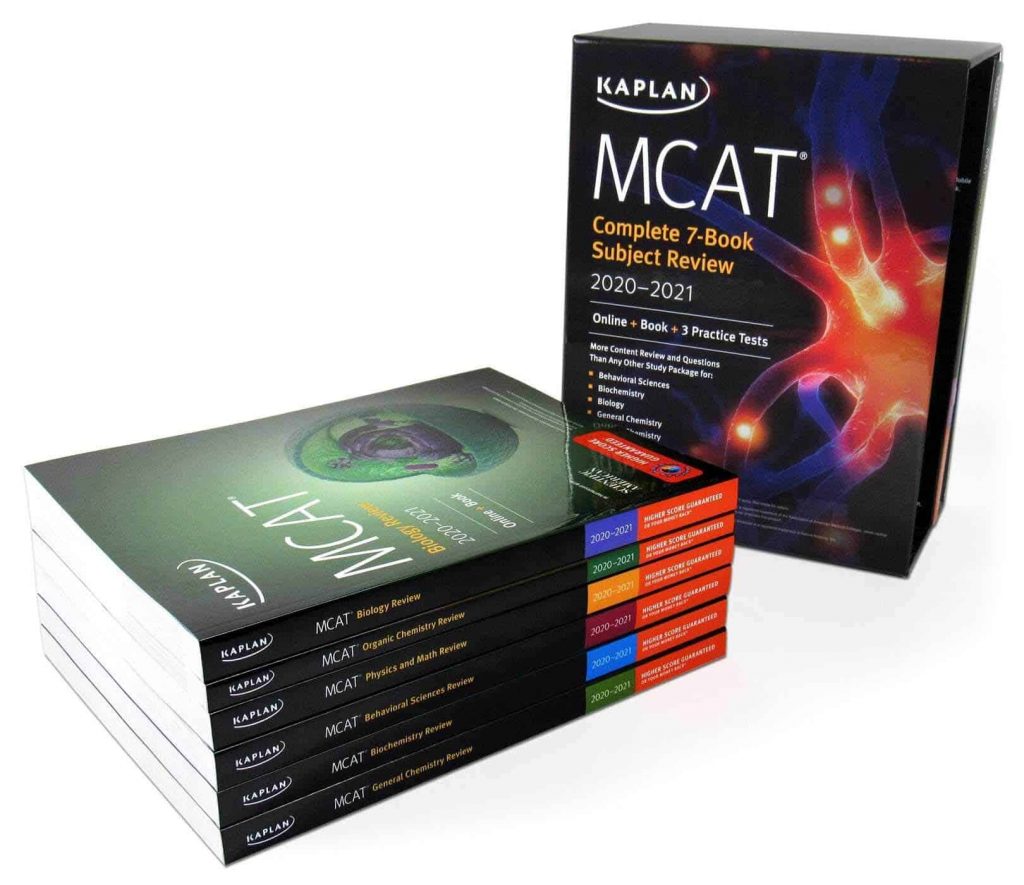 Kaplan test prep is another great MCAT resource. Kaplan has been helping students prepare for various standardized tests for over 70 years, and these study guides are some of the best on the market.
Much like the Princeton Review set listed in number one above, this set from Kaplan features seven different books, one for each section on the MCAT exam. The included books are:
MCAT Biology Review
MCAT Behavioral Sciences Review
MCAT Critical Analysis and Reasoning Skills Review
MCAT General Chemistry Review
MCAT Organic Chemistry Review
MCAT Physics and Math Review
MCAT Biochemistry Review
Each book is the most up-to-date, accurate version of the subject matter, and the new layouts make the books even more intuitive and easy to use.
In addition to the subject matter, you'll also get to learn about efficient test-taking strategies and have access to three, full-length practice exams online.
Whether you're taking the MCAT for the first time or looking to improve your score, these books will provide you with an in-depth review, efficient strategies, realistic practice, and expert guidance to help you do well.
Plus it's currently the number 1 Best Seller in MCAT Test Guides on Amazon (as of 11th Feb 2022); definitely one of the very best MCAT prep books you should consider!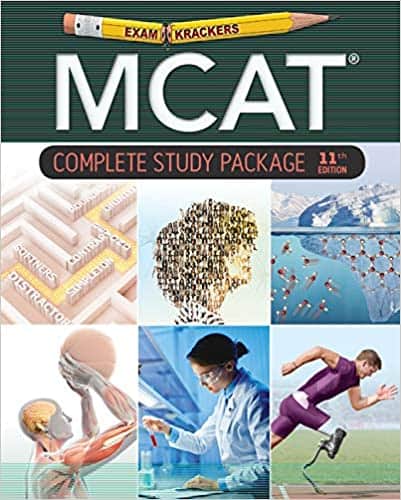 This is the latest edition MCAT study package by Examkrackers, a company that's been producing MCAT study guides for the past two decades.
The books were designed with two goals in mind: to provide you with every bit of content you'll need to learn to score well on the MCAT and to teach you how to use this information to do well on the research passages and questions.
There's even a section devoted to teaching you essential test-taking strategies you'll need to do well.
There are six total books in this set:
Reasoning Skills: Verbal, Research and Math
Biology 1 Molecules: Biochemistry
Biology 2 Systems
Psychology & Sociology
Chemistry: General & Organic Chemistry
Physics
The study format is unique in that it teaches you how to approach the different sections, when to read thoroughly, when to skim, and when multiple readings are needed.
There's also a full mini-exam at the end of each chapter that'll help reinforce the concepts you just learned.
The guides are designed to teach you to understand rather than memorize, which is the best approach you can take with the MCAT.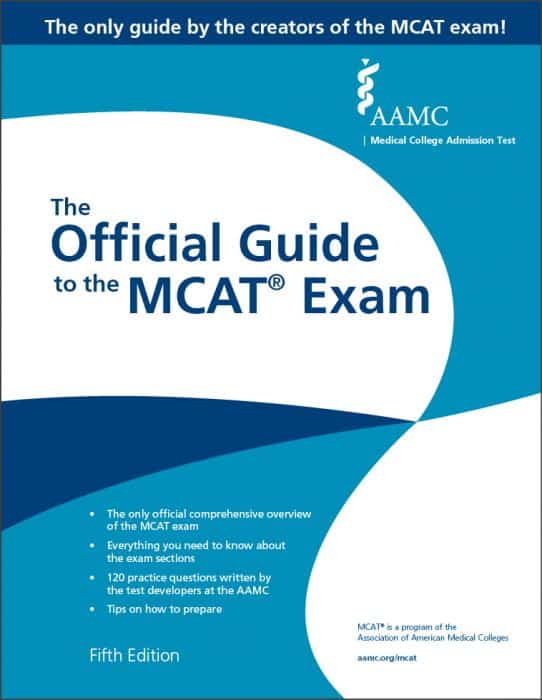 This is one of the few guides out there that's an official MCAT prep product. It's also produced by the AAMC, so you can be assured you're getting a study guide that's going to have a lot of relevant, up-to-date, useful information.
This guide is full of great stuff including:
Descriptions of Each Content Section and How the Guide Will Help You Prepare for that Section of the MCAT
General Tips on Preparing for the Exam
Just about Everything You Need to Know about the Different Exam Sections
Details on MCAT Scoring
Info on Admissions, and Much, Much More
This guide does not give you access to the 120 online questions, so make sure that's not part of the reason you're choosing this particular guide.
Although there are no full-length exams, there are very thorough mini exams at the end of each section, and when combined together, it's almost like having access to three different full-length exams.
There's also some great information in this guide about designing your own study plan and how to use your time wisely and maximize your study session.
Wrapping Up on Best MCAT Prep Books
We also hope our selection of the best MCAT prep books will give you somewhere to start researching and studying on your own for extra practice.
Although the MCAT is difficult, it is not insurmountable. To get a great score, all you need is time and devotion.
It should pay off in the end if you're willing to put in the effort. Just remember to plan ahead of time, stay cool, and give it your all.
Related Readings:
Best MCAT Prep Courses, According to Med Students
The guide to writing a stellar medical school personal statement