What are some of the best anatomy and physiology books? This is a question many students of anatomy grapple with.
Granted, the human anatomy is complex, starting from the head, down to the limbs. Some books focus on one organ and others cover the entire human body.
And that's not all. Anatomy and physiology coursebooks costs vary. So given all those variants, you can understand why students would feel a little confused about what to pick.
In this article, we are going to review a few top contestants that come highly recommended.
In the end, you will decide on the one that meets both your curriculum needs and budget.
Top Selections
Here are the top choices highly recommended by students, clinicians, and medical school instructors:
Gray's Anatomy has been in publication since 1858. This makes it one of the longest-serving Anatomy books out there.
This copy is detail-enough to serve as a stand-alone textbook for medical exam preparation. The presentation of information is elegant, with stunning visuals that make learning enjoyable.
Gray's Anatomy for students is a worthy companion for college students and those pursuing M1. The book carries with it ample practice questions to bolster concept comprehension.
There isn't much difference between the student version and the original make. However, the student's version is way concise and thus, easily digestible.
In short, if you want one book that dives deeply into anatomy, with excellent factual integration throughout, you should give Gray's Anatomy a try.
What we love about it
Gray's Anatomy is thorough with great explanations
The digital copy comes with elaborative video guides
Contains adequate self-assessment questions
There's an eBook that covers neuroanatomy extensively
The flow of content logically follows the order of the body parts
It's written by authors with extensive clinical experience
What we didn't like
It's one of the most expensive anatomy and physiology books
Appears long and wordy
Authors: Keith L. Moore, Arthur F. Dalley, Anne M. R. Agur
The battle between Gray's Anatomy, and Moore's Clinically Oriented Anatomy is akin to that of Kong vs. Godzilla. Two kings fighting to ace the other.
There are good reasons why Moore's Clinically Oriented Anatomy comes as a top recommendation.
To begin with, like its contestant above, it's also a hefty textbook that is greatly committed to quality. The content does not needlessly drone on. Rather, it is concise and to the point.
The body structures have been represented clearly and faithfully. And there's more! The colors pop way more than what you usually find in distinguished books like Gray's Anatomy.
The most winning aspect of this book is its ability to help learners conceptualize learned content. It has multiple clinical correlations, nicely set apart from text chunks. This is something many Anatomy books fail to do.
The layout too is orderly. The content is nicely structured, beginning with the introduction and then addressing each body part in its own chapter.
Such a good flow makes it easy for beginners to properly see connections between various tissues.
To cut this short, Moore's Clinically Oriented Anatomy strives to turn the complicated subject of Anatomy into something enjoyable. It's a worthy grab.
What we like about this book:
Keeps technical jargon down without compromising relevant medical terminology
A friendly layout of content from basics to advanced
Contains blue boxes, bottom lines summaries, case studies, and well-labeled and illustrated diagrams
What we don't like
You might need to dig a bit deeper into your pocket for the newest versions
While the quality of images is of better standards, you still will need an atlas
Author: Frank H Netter
We cannot overstate enough how vital Netter Atlas of Human Anatomy is to every student and anatomy enthusiast diving deeper into human anatomy.
In simple words, it is a bible that every learner and medical practitioner should have.
The visuals in it are vivid, almost life-like renderings of all the major body organs.
Netter's Atlas turns anatomy and physiology into less scary studies. It lets you take a break from reading large blocks of text.
The formatting is conceptually organized, starting with the head and neck as the first chapter, and the lower limb as the final.
Within each chapter lies sub-categories that address every organ down to nerves and cross-sections.
So, if you want to understand anatomy, down to a clinician's angle, Netter Atlas of Human Anatomy should be on your "need" list.
The book is mostly a visual depiction of all the major organs. This has made it helpful to students of any level, anatomy instructors, and field practitioners.
What we like about the book
Multiple experts and seasoned educationalists guide the content standards to ensure its accuracy and up-to-dateness in terminology, tables, and other novel illustrations
It's widely appreciated for its incontestably clear views of Anatomical structures
The book is supplemented with a wealthy stock of digital content, including practice questions and bonus plates.
It is available in multiple languages
What we don't like about this book
It costs a lot.
You cannot access bonus resources unless you buy a copy of the atlas
The hardcover is a hefty, back-breaking affair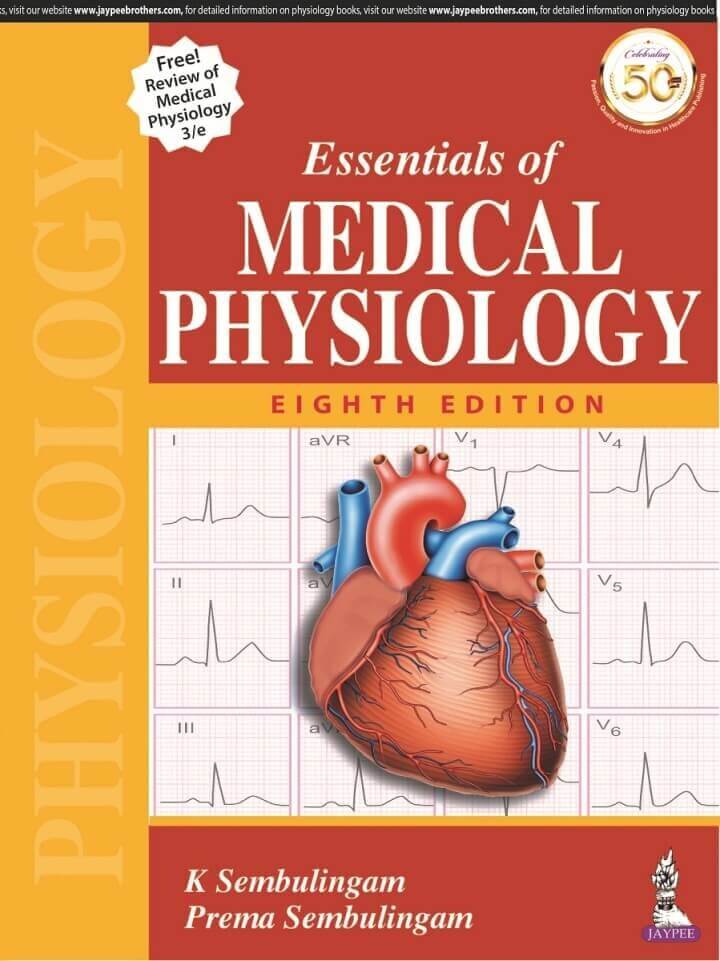 Authors: K Sembulingham and Prema Sembulingham
Sembulingam's Essentials of Medical Physiology is one of the best ways students get their feet wet in physiology. It's essentially a beginner's guide.
Despite being a beginner student's guide, this book is professionally written and includes chapters, chapter outlines, and attractive tables and flowcharts.
Like the rest of the best anatomy and physiology books, the content in this one too is formatted in an orderly manner.
There are hundreds of practice questions and answers in the book. These should help you cement your knowledge some more.
Sembulingam's Essentials of Medical Physiology is great for any medical students as well as those pursuing paramedical, dental, and health sciences.
Also, if you want to pass exams without having to read big books, you need to prioritize this book.
What we like about this book
It's one of the easiest physiology books to get through in a short time, yet still manages to cover a lot
It is continuously updated to incorporate the latest discoveries and changes
Very well written and in a language that is friendly to beginner students
It integrates good quality visuals that make content interesting to absorb
What we don't like
May not be ideal for high-level students who want a super comprehensive coursebook that dives deeper into a particular organ.
Authors: Elaine Marieb, Katja Hoehn
Marieb and Hoehn's Anatomy And Physiology is unarguably one of the best anatomy and physiology books ever printed. It is the definition of comprehensive material.
So detailed is this book that you would need a minimum of two semesters to finish it. And it's best suited for post-sophomore students.
Let's get into a few more reasons why it is not just one of the top-selling, but highly recommended as well.
First, graphics have been optimally illustrated but are not at Atlas-grade level. So yes, you might still need to have an atlas nearby.
The content's accuracy matches not just educators' standards, but clinicians' as well. And the layout of the content is eye-friendly with additional scannable material inside.
This book is regularly updated to ensure it meets the needs of the latest medical requirements.
What we like about this book
It's always updated to meet the latest medical advancements
The content follows a straightforward sequence to make learning easier
Heavily packed with material thereby establishing itself as one of the cornerstone books for anatomy and physiology.
Comes in several formats to accommodate both e-learners and hardcover readers
What we don't like about this book
Being an advanced academic-grade coursebook, it does cost a pretty penny
Can feel a bit too much to carry around
Authors: Nancy L. Halliday, Harold M. Chung
Anatomy is tough and that's the cold truth. There are many topics, some intertwined, increasing the subject's difficulty level.
But guess what, you don't need the big, exhaustive books if you are just getting started. Go for BRS Gross Anatomy.
It's not only designed for those needing basic science material. It also caters to those who need a brief course to help them pass the USMLE exams.
Students hail it for its clear and direct language that still retains clinical lingo.
Inside it, you will find engaging radiographs, color-rich illustrations, and BRS-approved questions to get you ready for exams.
Towards the end of each chapter, this book has questions to help you repeat what you just learned and strengthen your understanding.
And here's possibly what you want to hear the most. The book is relatively shorter and affordable.
What we like about this book:
It's a BRS-approved series
Has 500+ practice questions to get you USMLE-ready
Its brief, yet rich with sufficient material
It's light compared to many Anatomy and Physiology books
Has an eBook version
What we don't like about this book:
It is an entry-level material that lacks advanced content
Authors: John E. Hall, Michael E. Hall
This list wouldn't be complete without mentioning Guyton and Hall Textbook of Medical Physiology.
Some scholars refer to it as Frank Netter's version of physiology. It's a big book, for sure, but one of the simplest to follow.
The book supplements the text with over 1000 visually appealing images and illustrations.
Critical parts, such as the clinical examples are marked in blue to draw your attention. Such a design makes skimming vital sections easier.
A few of the chapters you need to expect include homeostasis, cardiovascular disorders, Alzheimer's disease, and obesity amongst others.
If you are planning to blow some money on anything fancy, then switch and go for this masterwork. You will be grateful for the decision someday.
What we like about this book
Well-organized, short chapters for easy understanding
The book tries to adapt the simplest language that serves both clinical and preclinical learners
Supplements the text with online materials
Designed to point out the important sections for easy skimming during exam season
Includes vibrant colored images to drive the point home.
What we don't like about this book
Some of the online resources are of poor quality
How to pick the best anatomy and physiology books
Despite applying an extreme level of due diligence, we have all at some point made blunders and spent money on a substandard or a complete knockout product.
If you are not keen, you are likely to spend your hard-earned cash on an improper A&P book. Here are a few tips to help you shop the right way:
• Buy what your instructors recommend
The most solid way to avoid losing money on improper books is by sticking to what the instructors recommend.
Your tutors have been in service for some years. It is safe to assume their recommendation is well-founded.
Plus, some lecturers and professors have biases towards some authors. You don't want to end up with a book from an author they hate.
If there is no particular recommendation from your instructors, check their slides and notes for any mentioned author.
Optionally, during lectures, note down any author they reference. The last resort is to ask seniors within your course about the books that worked well for them.
• Consider your level of education
If you are a 1st-year college student or a sophomore, you don't need advanced books like Marieb and Hoehn's Anatomy And Physiology or Moore's Clinically Oriented Anatomy.
Instead, choose those that cater to freshers. A book that starts with "Essentials" is likely to suit any beginner.
For those in advanced classes or hoping for comprehensive course books, the likes of Moore will suffice.
• Specialty
Anatomy and physiology are vast fields. If you are specializing in a certain area, like for instance vascular neurology, then it is prudent to go for that specific book.
Opting for general books like Sembulingam would be flushing money down the drain. Plus, general books rarely go deep into a specific subject matter.
• Multiple formats
College books are heavy. Unfortunately, at times you might need the hardcover. But if it's not necessary, then consider books that come in eBook format too.
• Bonus material
Many coursebooks are coming with multiple niceties that you should not miss.
When buying the best anatomy and physiology books, prioritize those with online resources, practice questions, and answers, and that can grant you access to authors.
Conclusion
Voila! There goes a good list of the best anatomy and physiology books for both beginners and advanced-level students.
All the books reviewed in this article have been written by accomplished (and some award-winning) educationalists. Yes, you cannot go wrong with either.
We are not saying they are the absolute best, but they are the most recommended by instructors worldwide.
Now, it's your time to decide which, in particular, fits your budget and course needs. Au revoir!
Frequently Asked Questions
I. What is the best way to study human anatomy and physiology?
To be honest, there is no universal way to study anything, let alone anatomy and physiology. But, there are many approaches you can try.
One way to read anatomy and physiology interestingly is to begin by listening to lectures.
Next, attend dissection classes, and use the lab structures, your textbook, and atlas to revise what was taught in class.
II. How many hours should I study for A&P?
Assuming we are factoring in lecture classes, that would take 6-8 hours. Two for anatomy, two for physiology, and two for biochemistry or any other course.
Note that the hours you put into studying A&P don't matter. What matters is the quality.
Otherwise, when revising, 4 hours should be enough, split almost in half for the two subjects.
III. What is the best anatomy and physiology book for medical students?
Netter Atlas of Human Anatomy, Moore's Clinically Oriented Anatomy, Gray's Anatomy, Sembulingham: Essentials of Medical Physiology, and Marieb and Hoehn's Anatomy And Physiology.
IV. Which book is best for 1st-year anatomy?
There are several; Sembulingham: Essentials of Medical Physiology, Gray's Anatomy for Students, BD Chaurasia's Anatomy Textbook, and Netter's Atlas.
V. What is the hardest topic in anatomy and physiology?
This does vary from student to student. However, many learners, especially on online forums, admit that neuroanatomy can be hectic because of the multiple ways tissues branch out.
Identifying muscles, the endocrine and nervous systems seem to be a hurdle as well. But with practice, no topic should feel like rocket science.
Related Readings:
The Ultimate Medical School Personal Statement Guide: (w/ Prompts & Examples)
5 Best MCAT Prep Courses, According to Med Students