An Intro to the best microbiology textbooks
The best books on microbiology, depending on your level, should help you get a proper grounding in the concepts as they develop your understanding throughout the chapters.
The list of textbooks below is not exhaustive, but it should get you started properly on this awesome subject. You will definitely find your best microbiology book as a beginner or as a pro.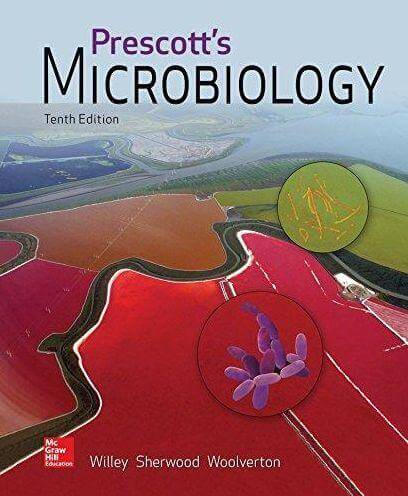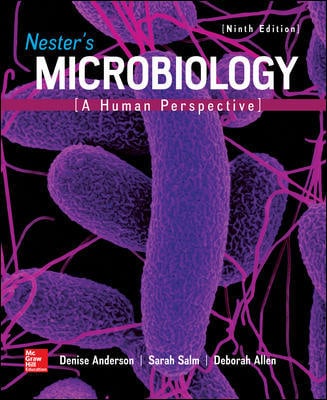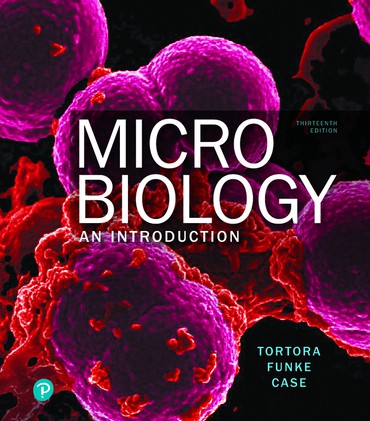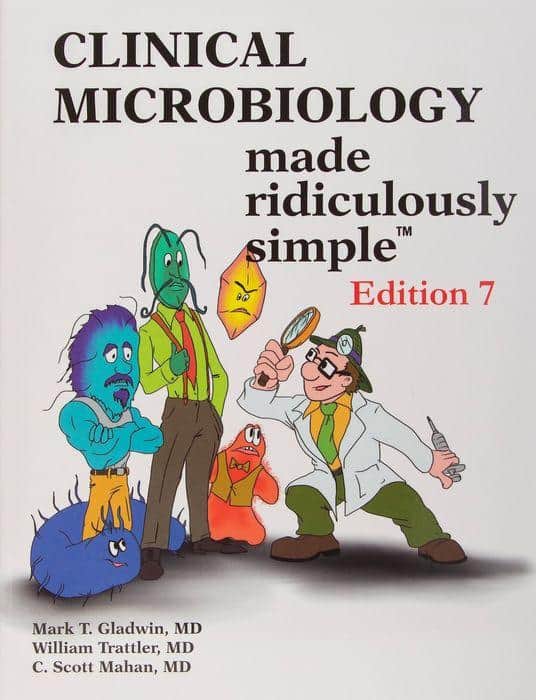 Clinical Microbiology Made Ridiculously Simple
To come up with the reviews below, we consulted several Microbiology professors and former Microbiology students. We also scraped through popular online forums to look for authentic reviews of these books.
Now let's dig in, shall we?
1. Prescott's Microbiology by Joanne Willey (Best Overall)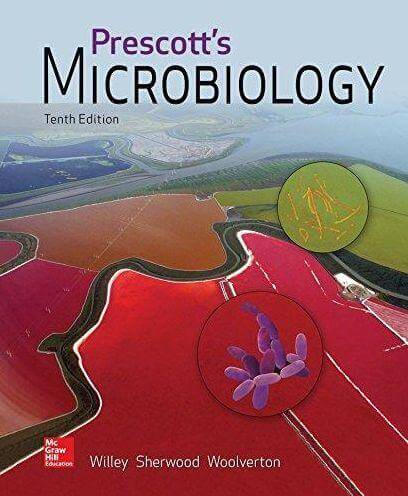 Some regard Prescott's Microbiology as the "Bible" for microbiology, particularly for beginners. With its simplicity, clear and succinct explanation, and visual illustrations, you should manage to quickly understand and follow the concepts taught here, which include evolution, diversity, and ecology.
It's elaborative and casts a wide net enough to cover an expansive range of topics without overburdening you with micro-details in part because it's intended for your initial college years. Really what the author team of this book does is offer you a comprehensive but balanced intro to all major themes of microbiology.
The content includes the following topics:
Introduction to Microbiology
Microbial Nutrition, Growth, and Control
Microbial Metabolism
Microbial Molecular Biology and Genetics
The Diversity of the Microbial World
Ecology and Symbiosis
Pathogenicity and Host Response
Microbial Diseases, Detection, and Their Control
Applied Microbiology
2. Brock Biology of Microorganisms by Michael Madigan, Kelly Bender, Daniel Buckley, W. Sattley, David Stahl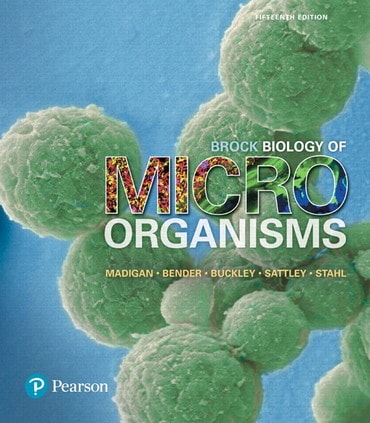 Like Prescott, Brock is a fantastic resource for learners trying to gain a beginner's comprehension of a variety of concepts in microbiology.
It provides historical perspectives, microbial structure & morphology, nutritional requirements of microbes, and presents topics on microbial genetics and molecular biology. It also covers ecology, metabolism, and evolutionary microbiology exceptionally well.
With this book, you will quickly master the concepts as it combines personalized learning, problem-solving activities, and colorful illustrations. Also, it helps hone the concepts by providing an online homework, tutorial, and assessment product that helps improve your results. This product is called Mastering™ Microbiology.
The following topics are covered:
The Foundations of Microbiology
Microbial Growth and Regulation
Genomics and Genetics
Microbial Ecology and Environmental Microbiology
Microbial Evolution and Diversity
Microbe-human Interactions and The Immune System
Infectious Diseases and Their Transmission
3. Microbiology by Michael Joseph Pelczar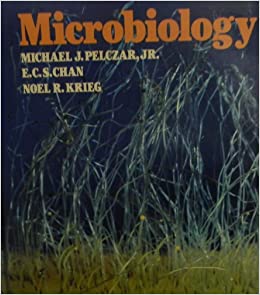 Some students consider this book a competitor to Brock and /or Prescott. But where this text shines is in its ability to approach the material on the classification of bacteria in a completely new format.
Pelczar is a fantastic book to learn the basics of micro-organisms too. It thoroughly covers fungi, algae, and lichens extremely well- much better than Prescott does!
It also includes topics on metabolism, genetic engineering, and bacterial genetics. If you're at the undergrad level, this book is a must-read. And if you're at the masters level but want to brush up on the basics of micro-organisms, then you've got yourself a solid book here.
4. Microbiology: An Introduction by Gerard Tortora, Berdell Funke, Christine Case, Derek Weber, Warner Bair III (Best for Medical Microbiology)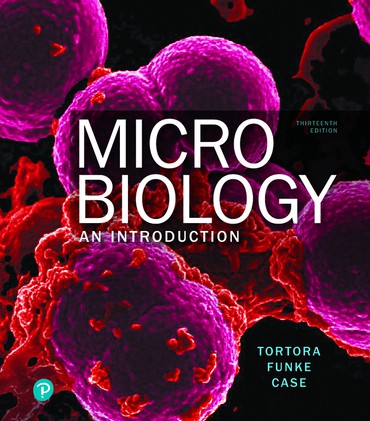 This book has great content on medical microbiology and its related material. It uses colorful illustrations and uncomplicated language to help you ease into the topics without difficulties. It's a solid introductory book and offers a great overview of pharmacology.
In the 13th edition, it includes up-to-date research on the microbiome and how microbes affect the health of humans. Also, it now covers vaccine-preventable diseases, bioterrorism, and, vertical transmission.
This textbook covers the following topics:
Fundamentals of Microbiology
A survey of the Microbial World
Interaction between Microbe and Host
Microorganisms and Human Disease
Environmental and Applied Microbiology
5. Clinical Microbiology Made Ridiculously Simple by Mark T. Gladwin M.D., William Trattler M.D., C. Scott Mahan M.D. (Best for Clinical Microbiology)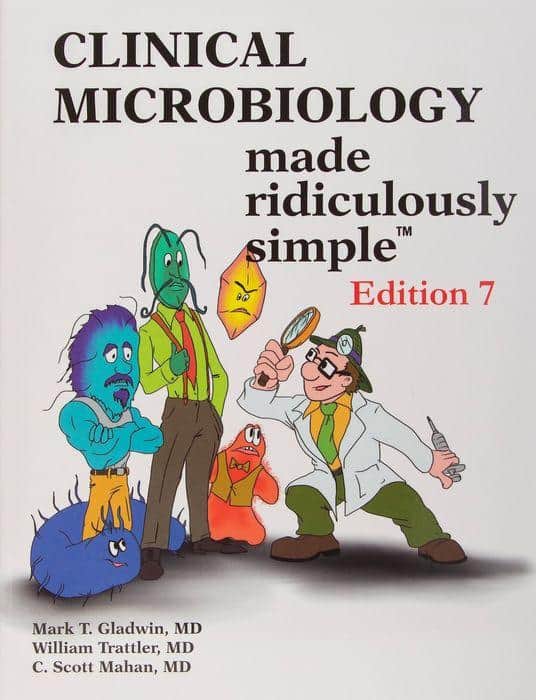 If you are a beginner and have little to zero knowledge of microbial diseases or perhaps you have some degree of difficulty comprehending medical microbiology, then this should be your go-to intro to microbiology book.
It covers Ebola, AIDS, Tuberculosis diagnostics, latest HIV diagnostics, Zika virus, et all. This edition also includes the latest emerging drug-resistant bacteria and infectious diseases.
We found the text to have a charming flow to it. And if usually find microbiology to be a bit boring, this book delivers the concepts in a witty, funny, readable, and cheerful manner- great for a visual learner! It also incorporates helpful mnemonics to aid with memorization. Check out this excerpt (from an earlier edition though) below: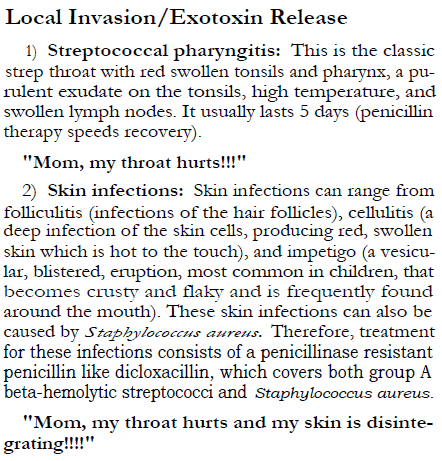 See… we told you it's funny! Anyway, we recommend using this book as an addon to another microbiology book, such as Jawetz, Melnick & Adelberg's Medical Microbiology textbook.
However, even with just this book, you are prepped enough for step 1 USMLE.
The topics covered include:
Bacteria: Gram-positive, Gram-negative, Acid-fast
Fungi
Viruses
Parasites
Very Strange Critters
Emerging Infectious Diseases
6. Sherris Medical Microbiology by Kenneth Ryan & others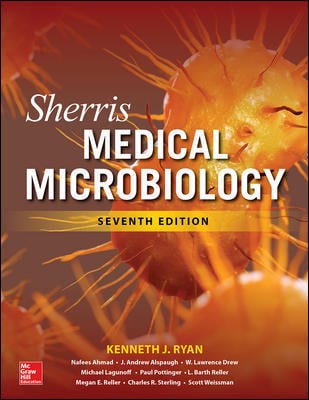 Sherris Medical Microbiology does an incredible job discussing the connection between microbiology and human disease states. It utilizes an engaging and robust approach to provide you with a firm grasp of epidemiology, the pathogenic processes, and the basis of therapy for infectious diseases.
We particularly found the parasitology section to be unparalleled in comparison to other texts. It's unequivocally one of the best microbiology books you can lay your hands on, with detailed information that's accompanied by nice imagery.
It has content on the following concepts:
Infection
Pathogenic Viruses
Pathogenic Bacteria
Pathogenic Fungi
Pathogenic Parasites
7. Jawetz Melnick & Adelbergs Medical Microbiology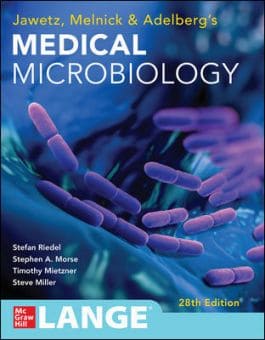 This book offers an updated and succinct overview of the influences that microorganisms have on human health. It does a great job of thoroughly discussing each microorganism while also providing important perspectives on medical findings, pathogenesis, diagnostic lab tests, treatment, and epidemiology.
We found that the clinical case studies chapters will deepen your understanding of medical microbiology by making the topics a bit more practical.
The book discusses topics such as:
Fundamentals of Microbiology
Immunology
Bacteriology
Virology
Mycology
Parasitology
Diagnostic Medical Microbiology and Clinical Correlation
Some med students we spoke to felt like this book's explanation on certain topics such as virology was a bit wanting- but we'll leave you to be the judge here. Overall, it's a great book.
8. Review of Medical Microbiology and Immunology by Warren Levinson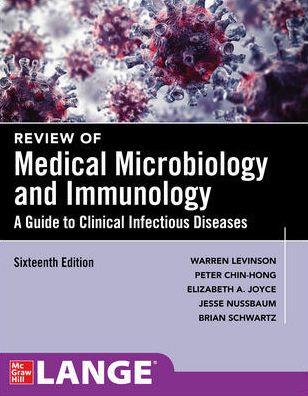 This book provides crystal clear explanations on topics, including the use of color pictures to drive concepts home. For example, it uses color images to depict clinically important findings such as Gram stains of bacteria, and microscopic images of protozoa, fungi, and worms.
Its content is comprehensive yet super concise. It uses the organ system approach to discuss vital infectious illnesses.
The book's topics include:
Basic Bacteriology
Clinical Bacteriology
Basic Virology
Clinical Virology
Mycology
Parasitology
Immunology
Ectoparasites
Infectious Diseases
Brief Summaries of Medically Important Organisms
Clinical Cases
USMLE Facts, Practice Questions & Examination
The USMLE sections will also help you prep for the USMLE (National Boards) examination.
We found quite the repetition of concepts across the book, and we think that's meant to deepen your understanding. You will also love the self-assessment questions towards the end to assess your understanding.
9. Nester's Microbiology: A Human Perspective by Denise Anderson, Sarah Salm, Deborah Allen (Best for Allied Health Students)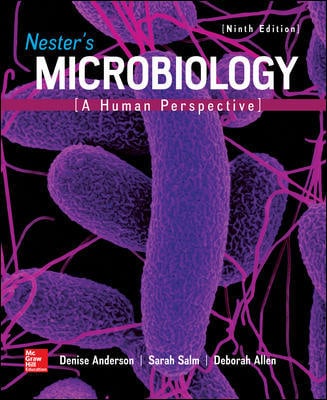 If you are an Allied/Non-Major Health student, then this book is for you. It will offer you a powerful foundation in microbiology. It meticulously and seamlessly discusses the basic concepts while also utilizing appealing illustrations.
Overall, we found the text readable and the approach really great at guiding you towards mastering the concepts. It uses a body systems approach to discuss diseases.
Its topics include:
Humans and the Microbial World
Microscopy and Cell Structure
Dynamics of Microbial Growth
Immunologic Disorders
Infectious Diseases such as Wound Infections, Respiratory System infections
Microbial Ecology
Environmental Microbiology
10. Molecular Genetics of Bacteria by Larry Snyder, Joseph E. Peters, Tina M. Henkin, Wendy Champness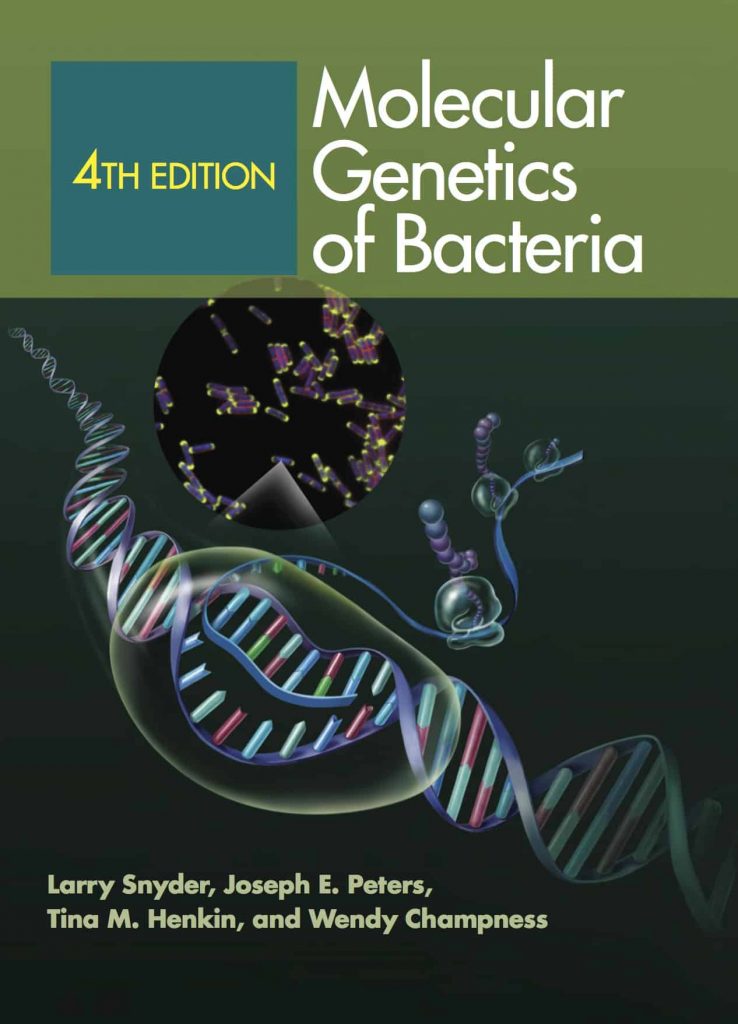 This book covers lots of important information on microbiology plus it features nice illustrations. The illustrations (in this edition) are not in full color though. However, it has a fluid writing style that effectively gets the content across.
Students who have used it for their Microbial Genetics Course found the book helpful because of its depth and fantastic explanations. However, the content will make more sense if you have a solid basic genetics grounding.
We loved that it offers thought questions and problems set after each chapter, which should help assess your understanding and encourage more research.
The book's topics include the following:
Bacterial Gene Expression
Bacterial Genetic Analysis
Bacteriophages and Transduction
Molecular Mechanisms of Homologous Recombination
DNA Repair and Mutagenesis
Regulation of Gene Expression
Genomes and Genomic Analysis
11. Medical Microbiology by Patrick R. Murray PhD, Ken S. Rosenthal PhD, Michael A. Pfaller MD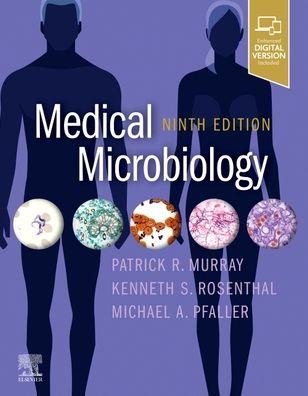 Murray's Medical Microbiology, like most students fondly call it, contains understandable, succinct, and updated discussions on key concepts. Through its clarity and engaging style, it can effectively prepare you for your coursework, exams, and future career.
It covers basic principles, bacteriology, virology, mycology, immunology, lab diagnosis, and parasitology- to help you develop a mastery of the essentials of microbiology. Further, it introduces important new explanations on the human microbiome and how that affects the immune and other body systems. Also, it discusses new developments in illnesses, pathogens, microbial diagnosis, and treatment.
You get to visualize the clinical presentation of infections through the book's clear and colorful illustrations, clinical pictures, and images.
You will find the 200 self-assessment questions to be great at aiding your understanding of the book's concepts.
The book's content includes:
Introduction to Medical Microbiology
General Principles of Laboratory Diagnosis
Basic Concepts in the Immune Response
Bacteriology
Virology
Mycology
Parasitology
12. Bailey & Scott's Diagnostic Microbiology by Patricia Tille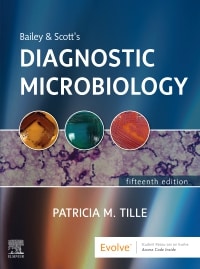 Like most other microbiology textbooks, this text also utilizes colorful illustrations to make the learning process more visual and appealing. With its step-by-step explanations, this book delivers a rock-solid foundational understanding of diagnostic microbiology.
Also, it includes more advanced procedures such as matrix-assisted laser desorption time-of-flight mass spectrometry. With this book, you have absolutely everything you would need to obtain error-free lab test results- whether in class or in clinical practice.
The case studies in the book should develop your critical thinking skills and enable you to apply your knowledge to varying diagnostic situations. Oh, and this edition has added up-to-date COVID-19 information!
Finally, this book should ready you for ensuing certification tests.
The topics covered include the following:
Basic Medical Microbiology
General Principles in Clinical Microbiology
Bacteriology
Parasitology
Mycology
Diagnosis by Organ System
Clinical Laboratory Management
Wrapping up: Are they the ONLY best books on Microbiology?
Microbiology is a gateway to many careers. You could work as a biotechnologist, immunologist, food scientist, or even a professor. So, depending on your career plans, these might or might not be your best books on microbiology.
And we respect that. At the end of the day, it depends on the book's style of delivery, your taste, as well as your career trajectory. We suggest you consider consulting a professional in your field to arrive at a suitable microbiology book.
But in our opinion, we recommend Prescott's Microbiology. Reading this book at the undergrad level feels like speaking to a trusted friend who knows a lot about the subject but is not condescending towards you. Get it below:
Meanwhile, we hope our reviews inch you closer to deciding.
All the best!
Related Readings:
5 Best MCAT Prep Books, According to Med Students
5 Best MCAT Prep Courses, According to Med Students
The 9 Best Physics Textbooks for College (Reviewed)