Becoming a Registered Nurse
Nursing school can be one of the most stressful things you will ever do in your life. Just graduating from college with a nursing degree is a tremendous accomplishment. There is one more hurdle before you can declare that you are a Registered Nurse. You must pass the NCLEX.
If you are anxious about taking the test, you are not alone. Most students are stressing about taking the NCLEX. The good news is, if you're willing to put the time and effort into studying and preparing for it, you shouldn't have to stress too much over it.
Finding a good NCLEX prep book and using it is the best thing you can do to help yourself prepare for the test. And it will help decrease your stress level as you know you will do well on the test.
Best NCLEX Prep Books & Guides
These are some of the best-rated. Remember, just purchasing the book will not help you to pass the test. You need to use it for it to be helpful.
If this is your first time taking the NCLEX, you may not know how to study for it. These guides will come in handy with hints on how to take the test, as well as familiarize you with the question format. Important features include practice questions with explanations for the answer, whether right or wrong.
We have taken the liberty to list & review some of the best NCLEX prep books. Do you know how you like to study, or what the best study experience is for you?
The guides will help you by breaking the information into manageable sections. They also integrate information to give you a better understanding of how to develop critical thinking.
This book is the #1 Best Seller in Nursing Reviews & Study Guides on Amazon! So you know it's really good.
Saunders has a fantastic reputation as one of the best NCLEX test books ever. This is an updated version reflecting the newest test plan. Included in this guide are over 5,200 questions within the book and the online edition. All questions have rationales to allow you to learn the reason for the answer. The guide includes a 75-question comprehensive exam covering the content in the same percentage that is used for the NCLEX test plan– testing the clinical judgment skills needed to pass the exam.
The first chapters are on preparation guidance, including the CAT format, test-taking strategies, priorities, and critical thinking skills, all from a new graduate's perspective. Alternate item format questions include multiple response questions, prioritizing, fill in the blank, figure/illustration, chart/exhibit, and even audio and video questions.
Utilize the Evolve companion site to access audio review summaries on pharmacology, fluid and electrolytes as well as acid-base balance.
Saunders also includes expanded coverage of delegation, prioritization, and triage/disaster management that may have increased emphasis on the exam. Each question has a detailed strategy and rationale, offering clues to analyze and answer the question successfully.
In the chapters, you will find priority concepts related to nursing practice, updated using the Giddens' Concepts for Nursing Practice text. They have also included more Priority Nursing Action Boxes to communicate new content.
The questions are categorized to allow for customizable exams or study sessions using the Evolve site. Boxes spotlight important nursing concepts and procedures as well as tips to help remember them. Mnemonics are included for some of the information accordingly.
Other additions that are only available with this guide are Clinical Judgment Situations, Bioterrorism content and questions to help with prioritizing skills, Pharmacology classifications, Special Populations, Complex Care, and even Systematic case scenarios to assist with focusing on the application of nursing care.
Note: This book now includes questions modeled after the Next Generation NCLEX (NGN) examination!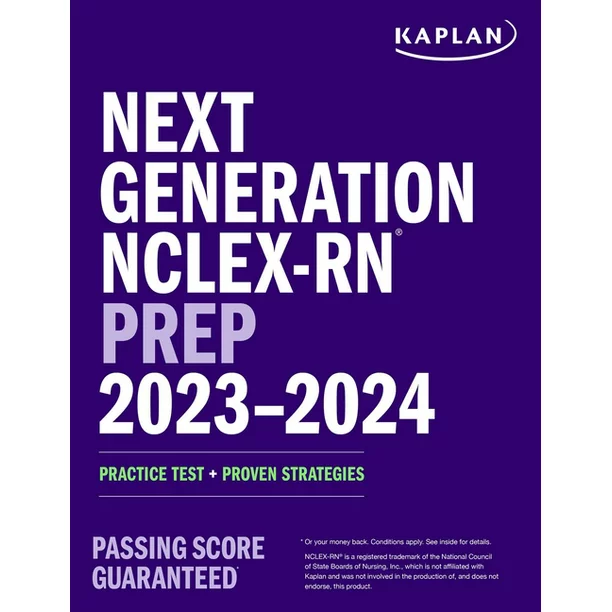 The Next Gen NCLEX exam tests how critically you think. Using expert critical thinking strategies and targeted sample questions helps you put your knowledge and experience into practice and gives you the confidence to take the exam. Kaplan has consistently produced great quality prep books that can help you achieve your goals of passing the NCLEX exam.
In this NCLEX prep book, there are proven practice strategies giving you a realistic way to study:
Critical thinking pathways to break down the exam questions
End of chapter practice questions to help apply what you have learned
Two full-length practice tests, one online, one in the book
Answer rationales, for both correct and incorrect answers
Tips to master the computer adaptive test format
Also included are:
Content Review based on the "Client Needs" framework
Video tutorials to help with the ins and outs of the NCLEX exam
Assessment of the practice questions and study materials by Kaplan's own learning engineers and expert psychometricians
Expert guidance from Kaplan. They have been helping students prep for tests for over 80 years and helped numerous students achieve their dreams by passing exams.
Test Prep has a reputation for producing prep books that are great, comprehensive test guides at relatively reasonable prices.
Included in this comprehensive guide are easy-to-navigate sections. The beginning of the guide contains, a quick overview, test-taking strategies, an introduction to the test, and what's on it. The main content is comprised of sections and these are broken into smaller subcategories.
A good, comprehensive guide covers anything that will be on the test. This one does exactly that, covering the bulk of the content topics such as Management of Care, Safety and Infection Control, Health Promotion and Maintenance, Psychosocial Integrity, Basic Care and Comfort, Pharmacological and Parenteral Therapies, Reduction of Risk Potential and Physiological Adaptation.
Included in this guide are practice questions and detailed explanations of the answers in case you answer one incorrectly. They created this guide with other great features and benefits. They also included practice questions mimicking the questions that will appear on the test itself. An explanation of the answer follows every problem, allowing you to learn from your mistakes.
Another great feature is the inclusion of test-taking strategies. Not just getting the correct answers, but how to be efficient within the time provided. This helps to decrease test-day anxiety.
Don't forget that Customer Service is available with access to a real human regarding your comments or concerns. Another resource provided by Test Prep Books is a study guide to go along with this guide, in addition to giving access to NCLEX review materials, practice questions, and test-taking strategies.
This is another well-rated guide for preparing for the NCLEX. Remember, the exam is challenging; probably the hardest test you will ever take- And a test that means the difference between working as an RN or not.
Included in the study guide are practice test questions with detailed explanations of the correct answers. Video tutorials, tips, and strategies to help you perform your best on the test and a complete review of the NCLEX test sections.
This guide is filled with critical information to assist you with doing well on your exam. Concepts, procedures, principles, and vocabulary are included- Every bit of information that you are expected to master before sitting for the exam.
Test sections included are Management of Care, Safety and Infection Control, Health Promotion and Maintenance, Psychosocial Integrity, Physiological Integrity, Pharmacological and Parenteral Therapies, Reduction of Risk Potential, and Physiological Adaptation.
Filled with specific and detailed information and concepts and principles that are explained in detail, this NCLEX preparatory guide can be the key you need to pass your exam. It is laid out in a logical and organized fashion so the sections flow together in a cohesive manner. It's not written in dense academic language; instead, it is written with technical accuracy and accessibility in mind.
Filled with practice questions and thorough answer explanations, this guide clearly stands out. There are also links to online review videos that allow you to watch instructors break down the topics to enable you to quickly understand the material. Examples are worked to make the principles and reasoning completely clear.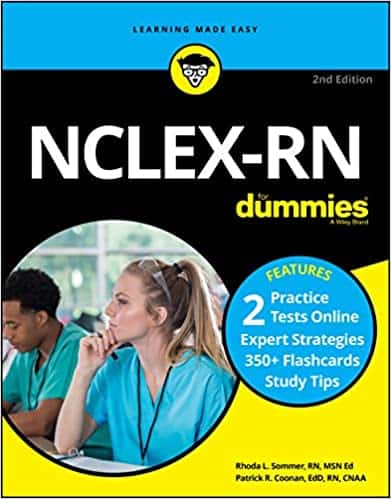 As one of the famous "Dummies" books, this NCLEX Prep Book can help you ace the exam. You are probably nervous about taking the exam and that's normal, many students don't pass on their first attempt.
To help you beat the odds and dramatically improve your chances, this NCLEX prep guide is updated and revised to prepare you for the latest edition of the exam. Complete with content review, tips on how to study, and test-taking strategies, this guide also gives you access to online flashcards and two practice exams. Round out your study plan with answer explanations for all the questions.
Inside you will find full coverage of the subjects such as medical, surgical, pediatric, psychiatric, and obstetric requirements for the test. 38 years of nursing practice give this guide's author/instructor the hands-on experience to deliver the results you want- To pass the NCLEX exam on your first attempt!
What is NCLEX?
The NCLEX is a standardized test to make sure that the fundamentals of the nursing procedure are understood.
According to the National Council Licensure Examination for Registered Nurses, the test is used to assess the competencies of nurses before they begin working professionally. The NCLEX-RN exam tests a potential nurse's knowledge and job skills to ensure that they can provide safe and effective client care.
Read: Here's Everything You Need to Know About The Next Generation NCLEX (NGN)
How can NCLEX test prep books help me prepare?
Any study guide can help you prepare if you use it. A good test prep book can help by reviewing the material needed to utilize critical thinking skills, which helps with answering questions. Nursing schools generally teach subjects separately, such as med-surg, OBGYN, pediatrics, etc. The NCLEX tests you on your ability to integrate the information and answer questions utilizing all your knowledge.
Study guides give you the information in a different fashion than that of nursing school, along with practice questions in the same format as the exam. This will allow you to learn how the questions are set up. Besides, most guides give you rationales behind the answers to help with understanding the content.
A study guide is useful in helping you to understand how the questions are prepared and how to answer them. The exam is not like nursing school tests. This exam tests you on how well you are able to critically think, using the information that you have learned during school. To pass the test, you need to be able to integrate the information. That is where the guides come in; by assisting you to understand how questions are formatted.
Some students find that taking practice exams is helpful. They allow you to see the questions and the rationale behind the answers, whether you answered them correctly or not. Although not included in this post, there are a number of NCLEX exam prep guides that are only practice questions. These can be helpful in studying for the exam as well.
Whichever method you choose, the only way they will help you is if you use them. Set up a time every day to study, don't try to cram it all in one session. Smaller study periods are better and will help you to remember the material longer. Make your plan and work it. It is the best way to succeed.
Related Nursing Readings:
Best NCLEX Prep Courses, According to Nurses
How to Write the Nursing School Personal Statement: Steps, Tips, And Samples
13 Best Books for Nursing Students to Read- Reviewed
Is a Nursing Degree Worth it? Explore the Benefits