Once you find the right LSAT prep course to suit your needs, you'll also want to pick up one (or a few) good LSAT study guides and prep books to give you that little extra boost.
Alternatively, if you prefer not to pay for expensive LSAT courses, then a book would be a great option. However, bear in mind that you need a ton of self-discipline while putting in the work to successfully study independently using prep books.
Here are seven of the very best LSAT prep books on the market today, according to lawyers who've taken the LSAT themselves.
This is one of the three official PowerScore study bibles, and it's one of the best. It has the most comprehensive selection of logic games available in any LSAT study guide.
There are some basic logic games in the book, but mostly, this is a book for those looking to move into the advanced logic games found on the LSAT. It is great at explaining the "why" behind the answers to the logic games.
It covers topics like how to make efficient inferences, how to effectively solve each type of question, time management strategies, classifications of each of the different types of LSAT logic games, and more. It also features extensive drills for each major concept and detailed explanations for all the games.
You can also go to PowerScore.com, where they have explanations for every past LSAT question, and you can quickly make an account and chat with them for FREE if you need help with your LSAT preparation.
To master the LSAT games section, we recommend purchasing together with the LSAT Logic Games Bible Workbook. The workbook reinforces and allows you to practice techniques from The LSAT Logic Games Bible through drills and individual games- with explanations and answer keys provided.
We found the PowerScore LSAT LG Bible informative, helpful, and user-friendly- It offers plenty of drills and clear explanations, with a readable font size, making it a fantastic choice to attack the Logic Games section.
This is another great edition that comes from the PowerScore 3-book series.
This one focuses more on the logical reasoning section of the LSAT, but it has many of the same great features as the logic games book, only these focus on reasoning instead of games.
The book begins by giving you a helpful introduction to the LSAT, including an explanation of each section and how your score is calculated. It also has a detailed section that covers the basics of Logical Reasoning.
This book teaches you to recognize different question types and quickly determine how to solve them, identify common reasoning elements, determine the validity of statements, quickly and effectively make inferences, and more.
There are also entire chapters of the book devoted to time management, section strategy, conditional reasoning, formal logic, causality, and more.
Bottom line, the PowerScore LSAT Logical Reasoning Bible teaches you easy-to-use strategies for each type of question and also explains why they work. This helps you understand not just the approach, but also the logic behind it.
The PowerScore LSAT Reading Comprehension Bible is the 3rd piece of the PowerScole LSAT Bible trilogy. It's an exceptional resource to help you improve your Reading Comp skills for the LSAT. It presents a powerful system to tackle any Reading Comprehension question you may face on the test.
This book includes official LSAT passages and questions with complete explanations, which help you understand the fundamental principles of the RC section. It also provides substantial discussions on how to deconstruct the passages, strategies to identify and attack the questions, and how to avoid traps set by the test makers.
One of the things we loved is that the book helps you learn how to pick "a best answer" when there is no obvious good answer choice.
The PowerScore LSAT Reading Comprehension Bible features detailed explanations for 12 official RC Passages, drills, and exercises that supplement the techniques discussed, and a quick-reference answer key to all problems.
In summary, with this book, you'll figure out what the LSAT looks for, and learn tips for handling the different types of questions. Also, your ability to outline and dissect readings will improve significantly, both on the LSAT and even on other non-LSAT studies.
The LSAT Trainer is a great workbook for putting concepts and skills into practice.
It starts by teaching the main ideas, and then gradually builds on them. You will see examples of how the big picture skills are applied to real questions before you even learn about the different types of questions. This is important because it helps you practice using the skills you have learned to evaluate your progress.
The LSAT Trainer is one of the most effective and top LSAT prep books you can find. It includes trainers' teachings, strategies for effective test-taking, drills, and solutions with detailed explanations.
There are over 200 questions in the workbook that come directly from previous LSAT exams. They come complete with solutions. There are also more than 30 unique drills to help you cultivate the skills and habits you'll need to score well on the LSAT.
Mike, the author, uses a conversational, calming, yet humorous voice- a great relief for a stressed-out student! You might be also interested to know that this book is currently the #1 Best Seller Law textbook on Amazon.
40% of the lawyers we interviewed said they recommend supplementing The LSAT Trainer with the PowerScore LSAT Bible Trilogy– especially the Logic Games Bible.
This is one of the few but extremely effective LSAT prep books in the market. It's your LSAT life's much-needed ice-cold libation.
This book took five years of thorough development, testing, and iteration. It provides a fresher method to LSAT Logical Reasoning that has already proven successful for numerous students.
It isn't just another book with a few conditional reasoning drills and a list of question categories. Rather, it aims to help you develop abilities that will enable you to predict the right answer even without knowledge of the question type.
To excel on the LSAT Logical Reasoning section, you must be able to:
Independently read, recall, and analyze the stimulus
Identify the only two characteristics that make a response correct.
Instead of letting the test run all over you, take charge of it.
A Redditor did the following in-depth review of the book:
Pros:
+Emphasizes understanding the stimulus and devotes more attention to this issue than other books +Useful discussion of types of answers
+Good overview of the general approach to logical reasoning and different question types
Cons:
-Unnecessary/unhelpful new terminology ("loophole", "powerful-provable")
-Potentially misleading categorization of problem types into 'powerful' and 'provable'
-Discussion of sufficient assumptions and necessary assumptions is not as precise as it could be for those looking to perfect LR
Verdict:
A good purchase for people who are not experienced with studying for LR or who are struggling with fundamentals. But much less useful for students who are looking for something that will help them go from good to perfect on LR.
– u/Telthias responding to Review of The Loophole in LSAT Logical Reasoning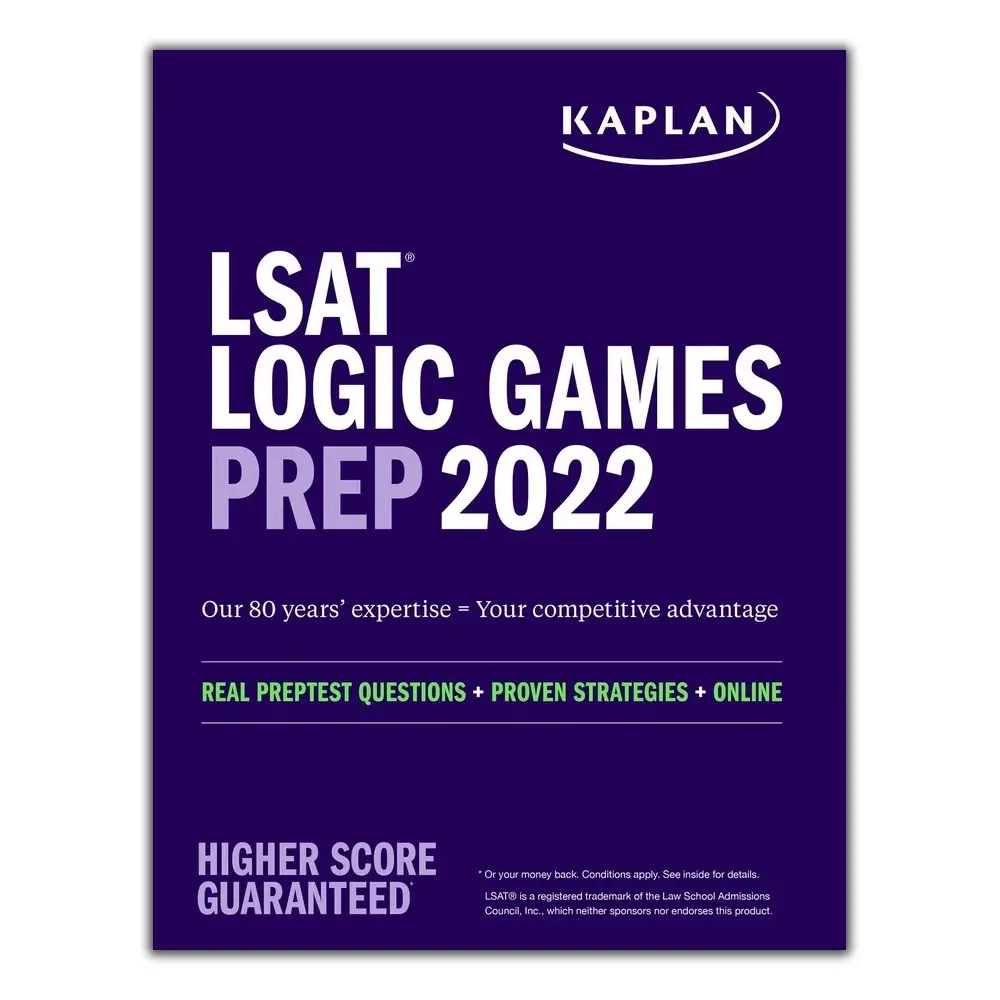 This is the most recent edition (2022 edition) of Kaplan's official LSAT test prep study book. It's been updated to reflect the types of questions, games, and problems found on the digital LSAT.
It contains tips from LSAT experts, as well as countless questions, drills, and exercises to help improve your overall score. The book guides you through every type of logic game problem and provides answers to the numerous practice questions, in case you get stuck.
Kaplan believes so strongly in this new edition of the book that they even back it up with a money-back guarantee. If you use the book and don't improve your LSAT score, Kaplan will refund your money completely.
If you're looking for a great guide to help you score higher on the LSAT, why not consider a company that's been creating these guides for more than eight decades?
This book is exactly what the title says it is: 10 official LSAT prep tests that are put together by the Law School Admission Council, which is the very council that's been administering the LSAT since 1948.
I shouldn't even have to tell you how authentic and helpful this should be in preparing you to take the actual LSAT. The book has 10 real LSATs that were given in the past, and it provides answers for each test. Unfortunately, it does not provide explanations for why the answers are correct.
The book has writing samples and tables to convert your score. Additionally, there are sample questions and explanations for the Comparative Reading section.
Note that If you're already using Khan Academy for LSAT preparation, you may find some of the practice sets in this book repeated there- since some of the tests on Khan Academy are from the same ten tests in this book.
But if you find this book helpful, there are 4 more books in this series of Actual, Official LSAT PrepTests that you can use to further practice.

To conclude, if you're preparing for the LSAT, having quality prep resources is non-negotiable. While taking a course is a great option, using LSAT prep books can also be an effective way to study. The seven best LSAT prep books listed in this article are highly recommended by lawyers who have taken the LSAT themselves, and they cover all three sections of the test.
Each book offers a unique approach and comprehensive content to help you improve your skills and boost your score. But remember that ultimately, your self-discipline and consistent effort will be your key to success when studying with LSAT prep books.
Good luck!
Related Readings:
10 Best LSAT Prep Courses Today, According to Lawyers
Our guide to writing a Law School Personal Statement that stands out
Best Books for Pre-Law Students (As Reviewed by Lawyers for Future Lawyers)