An Intro to the Best Books for Pre-Law Students
If you're considering going to law school, then we have the best books for pre-law students like you reviewed for you. These pre-law books will paint a picture of how law school is like and what to expect. Best of all, we've picked reviews from lawyers and law students alike- so you'll be sure to read the most accurate and honest opinions only.
Time to dive in!
Authors: Richard Michael Fischl, Jeremy Paul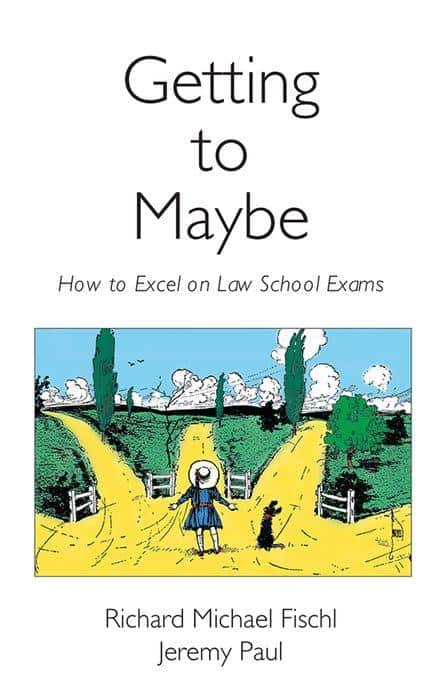 This is one of the best books for pre-law students that most lawyers have recommended. It ranks higher than most of the others.
Professors Fischl and Paul explain law school exams in interesting ways, all with the goal of improving your performance. The book begins by distinguishing between educational cultures that reward students for "right answers" and law school cultures that reward nuanced analysis of ambiguous situations in which more than one approach may be correct.
The authors devote extensive effort to explain precisely how and why legal analysis frequently results in such perplexing situations.
The authors, however, do not stop at mere description. Instead, Getting to Maybe teaches you how to excel at law school exams by demonstrating how legal analysis can be applied to examination problems.
The book contains study and preparation tips that go far beyond prevailing advice. The authors also show how to argue both sides of a legal issue without coming across as ineffectual or indecisive. Above all, the book explains why exam questions can cause feelings of uncertainty or doubt about correct legal outcomes, and how students can use these feelings to their advantage.
Although the authors believe that no exam guide can replace a thorough understanding of substantive material, if you devote the necessary time to learning the law, you will find this book an invaluable resource for translating learning into better exam performance.
Reddit Reviews of Getting to Maybe Book
I'd agree entirely here. Getting to Maybe seems like the only one I see consistently recommended, and even then it's more of a slight suggestion rather than a recommendation.

Don't overdue it OP, you'll have plenty of time to gun once you actually get to law school

– u/FrozenPhilosopher responding to Read these books before law school.
I found Getting to Maybe very informational. Jury's out on how helpful it will prove to be in law school. However, a lot of the examples require some background in law. I have some from working at a firm for a few years, but others may not want to wade through any substance like that before law school.

I also recommend Plain English for Lawyers. It helped me a lot because I frequently write memos and do research in my current job. It teaches you how most law schools are probably teaching students to write.

– u/casebonk responding to Books to read before starting law school?
Getting to Maybe is indeed great. I'm a current 1L, and that book was extremely helpful for me in framing how to study toward exams, as well as actually taking exams. Yes, a lot of it will go over your head because you haven't taken any classes yet, but it's worth getting the core concepts in your brain. Read this book and any others BEFORE orientation, because once classes start you will have literally no time…

– u/Oldersupersplitter responding to Books to read before starting law school?
Getting to Maybe is a good one to read

– u/ohlawl responding to Books To Read Before Law School
Quora Reviews of Getting to Maybe Book
"Getting to Maybe: How to Excel in Law School Exams". This book will show you how to exceed on law school exams—plain and simple. Want an upper hand on your classmates? Read this book. Want to feel comfortable about the seemingly indomitable prospect of taking an exam that determines your entire grade for the course? Read this book. Want a structure for thinking about taking an exam? Again, read this book…

– Matt Goodman (Lawyer at Lewis Brisbois Bisgaard & Smith, LLP) responding to What books should I read to prepare for law school as an undergrad?
Author: Scott Turow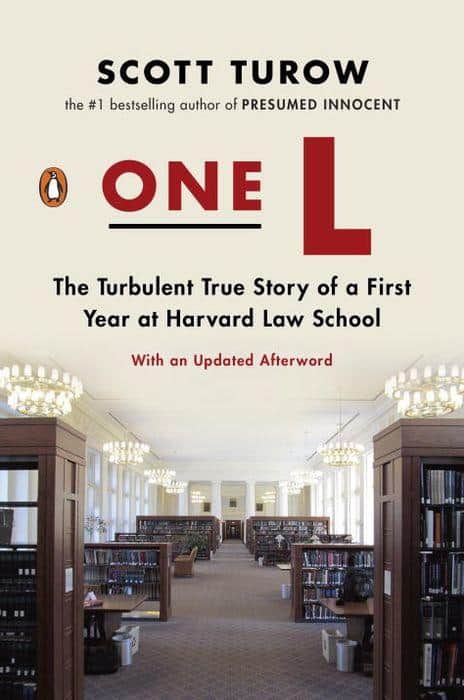 Scott Turow details his raw experiences in his first year at Harvard Law School. He recounts the terrors and triumphs, depressions and elations, and all the highs and lows of One Ls- experiences that every first-year law student goes through.
His narration is so good that in New York Times's words, his book "should be ready by anyone who has ever contemplated going to law school"- unquestionably one of the best books for pre-law students ever!
Reddit Reviews of One L by Scott Turow
I've read One L and I highly recommend it to others!

– u/SordidBoon responding to Read these books before law school
In the summer before I started law school, I met a law school professor. I asked him if he had any advice for law school.

He said to read 1L, by Scott Turow, which references another law school book: The Paper Chase, by John Osborne. Not because law school is really like that — tension and pressure so thick it hangs in the air like a fog — but because it will give you some idea — albeit a dramatized one — of how the Socratic method works in class.

His 2nd tip was: study more after class than before class. Most law school students are so freaked out about being called on in class that they spend way more time preparing for class, than they do studying the material you learned in class. He said to read all the cases and be prepared for class, but the point is to do well on the tests, so you need to learn the material. Spend more time preparing for the test than preparing for class.

His 3rd tip: Read what your professors have written. It will give you an idea of how your professor thinks, and what he thinks is important. And if you can somehow work it into class discussion — or better yet, a test answer — then the professor's ego probably can't help but be stroked a little bit.
One L: The turbulent true story of a first year at Harvard Law School by Scott Turow. I'm currently reading it. It's from the 70's, but other than laptops and slang, NOTHING has changed.

There's also "One L of a Ride".

– u/SpeedWeaponry responding to Looking for novels about Law School
It just came out in paperback with a new afterward. It's been required reading for about 40 years and popularized the Harvard term "1L" to describe first year law students, among other achievements. My lady friend bought it for me– her father and sister are lawyers and she described it as something of a cross-generation cultural touchstone for law students.

While the prose wasn't great and some of the drama felt a little forced, it was sort of amazing to get a peek into the world of law school before I jump in. I know that a lot of things have changed since the 70's in American law schools but it's really amazing to read about how many of the challenges that plague legal education and the field of law continue to today, from the Socratic method and the exam system to a glut of lawyers and the cost of law school.

I would point specifically to the human elements as the most important parts of the book. The stresses of competition, feeling like a number, and large amounts of work affect the various characters differently and rarely positively, and I often found myself wondering which character I will be next year, and which I want to be.

It sounds like Scott Turow was equal parts excited and overwhelmed by his experience along with nearly all of his classmates, and it was in their reactions to all of the new stimuli that some inner demons found their way out. While the work and specifics of legal education may have changed in the past few decades, I do respect this book's ability to force me to reckon with some personal mental preparation.

Plus I really identified personally with the perspective, as a neurotic Jewish guy with a bit of impostor syndrome myself.

Overall I would absolutely recommend
I'm starting Boyd School of Law in the fall and I had one of our professors recommend reading One L: The Turbulent True Story of a First Year at Harvard Law School by Scott Turow. Just wanted to share this with everyone who is looking at law school and/or accepted and wanting to get an idea of what the first year looks like. It's a great read and helped me learn a bit about what I'm up against.

– u/lv-law responding to If you're wondering what the first year (of law school) is like...
Quora Reviews of One L by Scott Turow
To learn about law school or to learn about the practice of law?

For the former, I'd strongly suggest Scott Turow's memoir One L: The Turbulent True Story of a First Year at Harvard Law School (1977). I went to a decent state school rather than Harvard, and in the mid-2000s rather than the 1970s, still I reckon my experience of the Socratic method was quite similar and about 75% as stressful as Turow describes.

For the latter, my law school suggested all incoming 1Ls read Jonathan Harr's award-winning nonfiction book, A Civil Action (1995). It will give you a taste of what it's like to practice, at least if you go into tort law.

– Gerald Pierson responding to What are some good books to read before law school to familiarize myself?
Well before you become a lawyer, you first have to get into, survive, and graduate law school. And take it from one who didn't, it isn't for everyone.

Everyone who is interested in law school should first read this: Scott Turow's memoir One L: The Turbulent True Story of a First Year at Harvard Law School (1977)

– Benjamin Johnson responding to I'm 13 and I want to become a criminal lawyer. Does anyone have any book recommendations that give good insight on what they do, challenges they face, and solutions they've come up with? I found some but they're textbooks and like I said I'm 13.
One L: The Turbulent True Story of a First Year at Harvard Law School, by Scott Turow. This is a very good book written about one brilliant student's experiences at Harvard Law School. What Turow writes about is traditional rituals and events that go back for centuries, in a few instances, and many are still being done to students today. It is a good start in introducing you to what it may be like in your 1L class at law school.

– Carl Franklin responding to What books should I read as an introduction to law?
Author: Robert H. Miller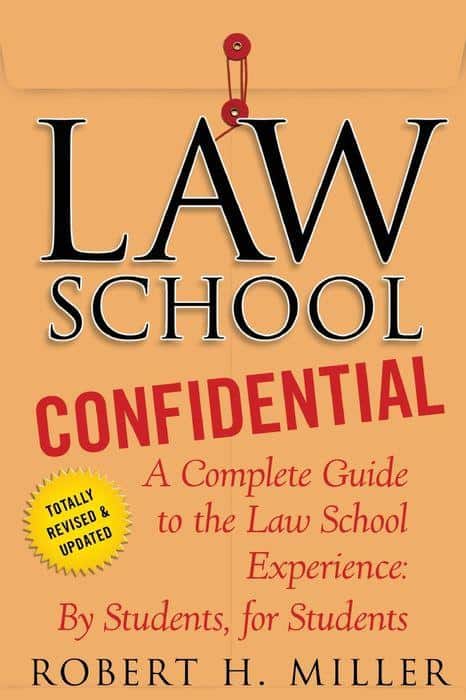 For more than a decade, Law School Confidential, written by students for students, has been the "must-have" guide for anyone considering, applying to, or attending law school. And it's now more valuable than ever in this newly revised third edition.
This isn't the advice of graying professors or battle-scarred practitioners who have long since graduated from law school. Robert H. Miller has assembled a distinguished panel of recent graduates from across the country to provide realistic and informative firsthand advice on what it's really like to attend law school.
This revised edition includes the most recent information and strategies for thriving and surviving in law school, including navigating the admissions process and securing financial aid, selecting classes, studying and exam strategies, and securing a seat on the law review, as well as obtaining a judicial clerkship and a job, passing the bar exam, and much more.
Newly added material also reveals a sea change in legal education that is just getting started, shifting it away from the theory-based platform of previous decades and toward a pragmatic platform required by the demands of today's practices.
As you will see in the reviews below, a lot of law graduates consider this as one of the best books for pre-law students today.
Reddit Reviews of
Law School Confidential
Law School Confidential has been pretty good so far! It covers a lot of aspects of getting acclimated to classes/studying/how to act like a decent human being during law school.

I also picked up a copy of Getting to Maybe, but haven't skimmed it yet to see what it's like.
I'd recommend getting a book called "Law School Confidential." It's a great way to learn what you need to do before and during Law School and will walk you through each step of the way. I know it's not a book about the law, but Law School is such a different animal it's good to have a book about Law School too.

– u/The_Amazing_Emu (VA – Public Defender) responding to Books To Read Before Law School
Law school confidential. I implemented my own version of their reading system, but the rest of it really prepares you for how to think about 1L year. It's not about knowing everything perfectly, it's about getting little advantages where you can. It also helps to know what to expect (law review write-on, job searches, moot court, etc.).

While I have my own opinions about everything now, it was super helpful to be given a baseline going into my first year. The only thing that could prepare you better would be if you befriended a 2/3L and they showed you the ropes.

– u/Enderdejorand responding to Best Books Before 1L?
Helped me out a bunch.

– u/coffeewouldhelp responding to Best Books Before 1L?
Overall I found the book really insightful. I just finished undergrad and although law school has always been my end goal I still really didn't know what to expect. So it's safe to say I thoroughly appreciate the nooks and crannies of the book, especially the do's and don't's of the application and admissions process.

However, as a Canadian student, I take 90% of the book with a grain of salt since a lot of it really doesn't apply to us over here – ie., choosing the right school. Second, being submerged in LSAT prep for the last few months, I found myself pretty turned off the book as a whole to see it recommend Kaplan and Princeton Review LSAT prep – everyone seems to recommend not touching those with a 10ft pile. But I already have my prep materials and LSAT game plan, so I tried not to care.
Quora Reviews of
Law School Confidential
As a T14 law school graduate and practicing attorney, I've read plenty of law books.

Here are my favorites:

– Johnny Biglaw responding to What books should someone read before applying / entering law school?
…I also saw all the young, eager, nimble law students running around the library. That is when I decided I was no threat to the state bar association. I recommend the following:

1. Get the case books on the various subjects and see if you can follow them.

2. Here are some books:
Author: Andrew McClurg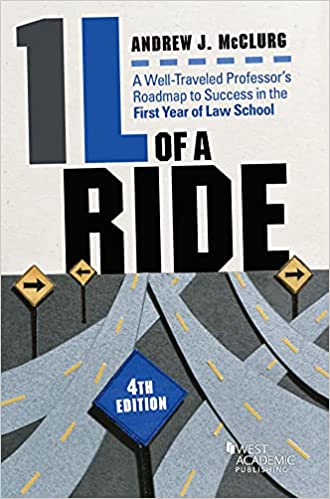 1L of a Ride, a required or recommended reading at law schools across the country, provides a candid, comprehensive roadmap to academic and emotional success in law school's vital first year. Legal education evolves, and so does this classic work.
Pre-planning, top student fears, the first-year curriculum, the Socratic and case methods of teaching, effective class participation, the top habits of successful students, essential study techniques, legal research and writing, exam strategies, maintaining well-being, online learning, career planning, and much more are covered in this updated and expanded fourth edition.
It Incorporates comments from hundreds of law students, empirical research, and authentic samples of 1L signature documents, such as exam questions, Socratic dialogue, and student case briefs, class notes, and course outlines. Besides, McClurg is a distinguished professor who has taught at six different law schools.
Reddit reviews of 1
L of a Ride
It helped me a lot. Obviously there isn't a "one size fits all approach" to law school because you have to do what works best for you. But this book at least explains what successful students tend to do, which should at least give you a place to start.

– u/iamrapidash responding to Does everyone suggest reading IL of a Ride?
Sorry to say this, but it's true. It's all true. I saw in another post that you're going to UW (go Huskies!) and UW law doesn't have cutthroat competition, so that's good. I highly recommend [you read this book] 1l of a Ride.
Haha I'm reading that now actually! It's a good book! Helps stem some of the 1L jitters

– u/deleted commenting on 1l of a Ride
I read 1L of a ride and really enjoyed it!! Had some helpful tips and other things I hadn't really thought about before
Quora reviews of 1
L of a Ride
…That brings me to the next book suggestion. One L of a Ride. This book presents readers with the ins and outs of the dreaded "1L" year. No, it won't demystify every single encounter you'll have during your first year of law school, but it'll introduce to most of it…

– A Jemison responding to What leadership experience or books would you recommend if I want to go to law school (anything related to business) or practice law in the future?
Author: Atticus Falcon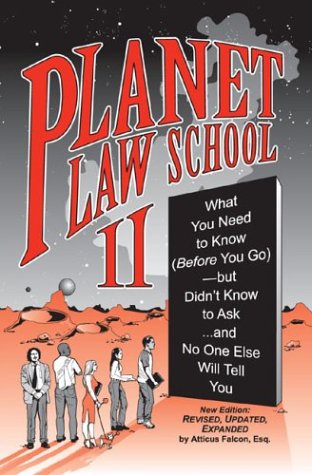 PLS is a popular law school guidebook with lots of advice on numerous legal resources. It has chapters and sections on courses, materials, study guides, professors, law review, internships, clinics, bar review, research, writing, mastering exams (and the bar exam), and excelling in law practice. PLS simply has information and advice that you won't find anywhere else.
Reddit reviews of Planet Law School
Just finished Planet Law School and it's a doozy!
I liked planet law school but it's been so long ago I can't even recall if it's the sort of book that would age well or not

– u/wvtarheel (WV – Toxic Tort Defense) responding to Books To Read Before Law School
…As far as useful to prep for law school- I read Planet Law School II written by "Atticus Falcon." It was interesting, I don't know if it helped- maybe it did. I was already cynical though because I went to law school after a career in public safety, but it gives a good idea of what it all entails with some advice, but it's absurdly long and wordy.

One L by Scott Turow is a classic, as is One L of a Ride. Getting to Maybe is probably the most helpful for exams, and Plain English for Lawyers will help in legal writing…

– u/jerseyjoe83 (PA Assistant District Attorney) responding to Books To Read Before Law School
Do read Planet Law School and LEEWS. Planet Law School you must read to know the actual game of law school (that it is a bait and switch game which you will only otherwise learn after getting straight Bs). LEEWS gives you a method to actually approach the end game of dealing with final exams (the only thing that actually matters to your grades in the end).

– u/7sagelarry responding to What do you guys think about 0L prep?
If you're going to read a law school book before starting, I recommend Planet Law School. A bit overly cynical but it seemed to most accurately cover the law school experience. YMMV.
Author: Paul Campos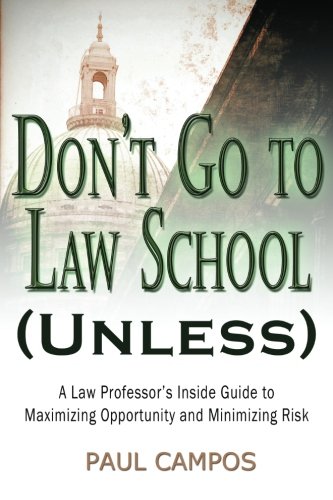 Heading to law school has become an extremely costly and increasingly risky endeavor. When does it become worthwhile? In this book, law professor Paul Campos answers that question by providing prospective law students, their families, and current law students with the information they need to make an informed decision about applying to, enrolling in, and remaining in law school.
Campos explains how the law school game is won and lost from the inside, as the most prominent and widely cited critic of the deceptive tactics used by law schools to convince the vast majority of law students to pay far more for their law degrees than those degrees are worth.
The book reveals which law schools are still worthwhile to attend, at what cost, and what types of legal careers are viable today. It describes the various economic and psychological traps that law students and new lawyers fall into, as well as how to avoid them. It is a must-read if you or someone you care about is thinking about going to law school- undoubtedly one of the best books for pre-law students.
Reddit reviews of Don't Go To Law School (Unless)
Hey everyone,

I've been active on this sub for some time now, and I just recently got around to purchasing and reading "Don't Go To Law School (Unless)" by Paul Campos (link available under the right side bar). I want to take a moment to encourage everyone to take a look through this book; it really impressed upon me the gravity of law school debt and how important it is to pick the right school at the right price.

I know for many of us who are applying, the last thing we want is discouragement, but while the book paints a bleak picture, I walked away from it much more informed and resolved in my law school decisions. The book is barely 100 pages, is a very quick read, and I find it might answer a lot of questions that are continuously posted to this sub.

For anyone who has read it, what did you think? Did it help you decide where to go to school?

– u/_awesumpossum commenting on Read "Don't Go To Law School (Unless)" !!
…What I really like about this is that it's not saying "don't go to law school". It's saying "rid yourself of the following illusions before deciding if law school amounts to a good decision"

– u/graeme_b commenting on Read "Don't Go To Law School (Unless)" !!
Quora reviews of Don't Go To Law School (Unless)
There are four books that I would recommend, but with respect to two of them, you should probably only read one of the two (time permitting).

The first is "Don't Go to Law School (Unless)" A Law Professor's Inside Guide to Maximizing Opportunity and Minimizing Risks.

This book opened my eyes to the unfortunate situation law school creates for many prospective students. This includes incurring crushing amounts of debt and facing bleak job prospects, accompanied by the prospect of jobs that many pre-law students know nothing about. Many students don't really know what litigation, for example, entails and enter law school thinking that they'll just obtain a JD and achieve success.

This is wrong. And this book plainly states: Don't go to law school if you don't plan on doing real lawyerly work—i.e., litigation or transactional work. And thus, you must understand what that work really entails. It concludes by stating that only a fraction of students who actually enroll students should enter law school—make sure you're in that segment.

"Thinking Like a Lawyer" by Frederick Schauer or "The Legal Analyst" by Ward Farnsworth": These two books provide a ton of substantive content about the theory, the structure, the policy goals, and the underpinnings of our American Legal System. They give you practical insight into the basic workings and, undeniably, arm you with a paradigm that will be greatly superior to your peer. For example, Thinking Like a Lawyer gives you deep explanations concerning arguments by analogy, statutory interpretation, and the nature of precedent and authority, as I wrote about in this prior post.

The Legal Analyst, on the other hand, might go into depth about many psychological concepts prevalent in the law—such as hindsight bias and anchoring, as well as the role of some economic concepts in the Law, like the tragedy of the commons, and also more fundamental legally related policy issues, like slippery slopes…

– Matt Goodman (Lawyer at Lewis Brisbois Bisgaard & Smith, LLP) responding to What books should I read to prepare for law school as an undergrad?
There's a wonderful book that will break it down better than any answer here. Don't Go To Law School (Unless): A Law Professor's Inside Guide to Maximizing Opportunity and Minimizing Risk

– Brandon Ross responding to I'm planning on getting a JD straight after college. How do I know that it's the right next step for me? Should I start working with my business degree or dive into law?
Wrapping up on the best books for pre-law students
Law school is daunting and challenging…But still doable. Some lawyers like to advise 0L students to engage in fun activities such as reading entertaining fictional novels or partying as opposed to looking for pre-law books to read. Their rationale is that once you get into law school, the fun gets tossed out the window.
Luckily, most lawyers think that you should get an inkling of law school, especially to prep yourself mentally for the ensuing workload and legal experiences. And their recommended way is by reading at least one of the best books for pre-law students.
Good luck as you prep for law school!
Also Read:
 8 Best LSAT Prep Courses, (And 5 Best LSAT Prep Books), According to Lawyers
The Ultimate Guide to the Law School Personal Statement